Is The Euro's Decline A Good Reason To Invest?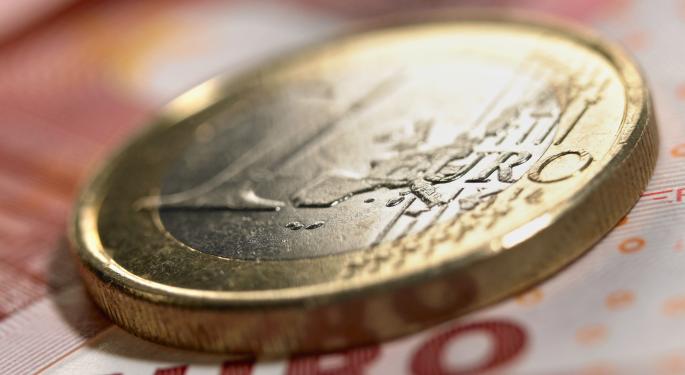 Despite a simmering dispute between EU officials and Greek policymakers, European businesses could be turning a corner as the European Central Bank's massive bond buying plan begins on Monday.
The bank is expected to pour €60 billion into the region's financial system each month in an effort to rekindle a faltering economic recovery. The ECB's accommodative stance is a sharp contrast to the course taken by the U.S. Federal Reserve, which is expected to raise interest rates some time in 2015.
Euro Sinking
The ECB's easing measures have already driven the euro to record lows, and the common currency is only expected to continue falling as U.S. data has been indicating a strengthening economy.
On Friday, data from the U.S. Labor Department showed that U.S. employers added 295,000 jobs in February and that the unemployment rate had dropped to 5.5 percent. The figures pushed the dollar higher and sent the euro tumbling, making the common currency nearly even with the greenback at $1.09.
A Silver Lining
The falling euro has made many wary of investing in Europe, however the currency's losses coupled with falling oil prices have given many of the region's businesses a leg up, especially those which focus on exports.
Companies whose sales are made primarily outside the bloc could see the greatest gains from the current economic climate. On Wednesday, United Parcel Service, Inc. (NYSE: UPS) noted that it has already seen a 10 percent rise in packages shipped from the EU to the U.S., a good indication of a growing trend.
Related Link: Here's How Quantitative Easing In Europe Could Affect U.S. Businesses
Who Stands To Gain?
Companies like Anheuser Busch InBev SA (ADR) (NYSE: BUD) and ASML Holdings NV (ADR) (NASDAQ: ASML), do the majority of their business abroad and are poised to gain momentum as the euro continues to sink.
German automakers also stand to benefit; BMW and Daimler AG are likely to see a lift in the coming months as the euro deteriorates against the dollar.
View Comments and Join the Discussion!
Posted-In: BMW daimler ag euroEurozone Economics Federal Reserve Markets Trading Ideas Best of Benzinga