American Realty Capital Properties' Big Release Was A Mixed Bag; No Bombshells, But No CEO And No Dividend Yet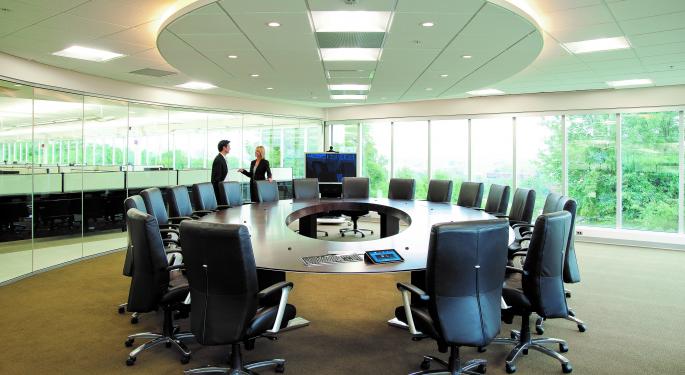 On Monday, American Realty Capital Properties Inc (NASDAQ: ARCP) released a statement and hosted a conference call presentation updating its progress to date regarding the review of its past accounting and other issues surrounding the departure of former Chairman Nick Schorsch late last year.
The Good News
Given the large scale of its operations, there was nothing uncovered that threatened the underpinning of American Realty Capital Properties' valuation -– its 4,700 property portfolio, primarily composed of single-tenant net lease properties.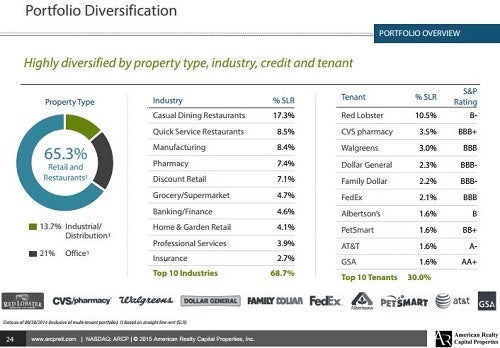 More good news included nothing revealed that pointed to any wrongdoing by management of American Realty Capital Properties' non-traded REIT and asset management business Cole Capital.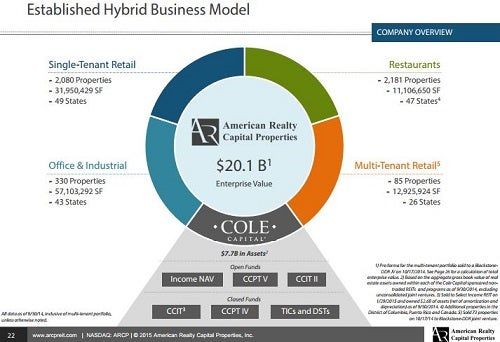 Regardless, the drama that has unfolded over the past few months, including the cancellation of the sudden and somewhat ill-conceived sale of Cole Capital –- to then Schorsch-controlled RCS Capital Corp (NYSE: RCAP) -- has certainly impacted the positive momentum of the franchise.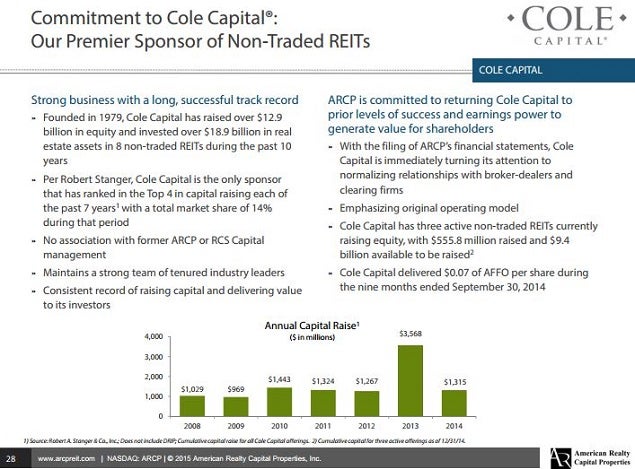 Management expects FY 2014 results will be negatively impacted by the significant reduction of Cole Capital's equity raise in 2014, as shown in the slide above.
Dividend Status Update
One of the biggest investor issues, the reinstatement of American Realty Capital Properties' suspended dividend, still remains a mystery. However, the announcement clarified tasks that still remain to be accomplished, including:
The preparation and filing of FY 2014 American Realty Capital Properties financial results, anticipated to be filed by March 31, per lender agreements.
Identifying and naming a new CEO who will be instrumental in setting a new course for American Realty Capital Properties, along with the board.
Releasing initial AFFO guidance for 2015 and determining the dividend coverage policy.
The new dividend will be paid quarterly, and according to the announcement, "is expected to be in line with net lease peers."
Related Link: American Realty Capital Properties Announces Third Quarter 20014 Operating Results
Negative Issues – Financial
The announcement continued, explaining the following financial obstacles:
"Net loss was understated for 2013 (including each quarter of 2013) and the second quarter of 2014."
"Net loss was overstated for the first quarter of 2014."
"AFFO was overstated for 2011, 2012, 2013 (including each fiscal quarter of 2013) and the first two quarters of 2014."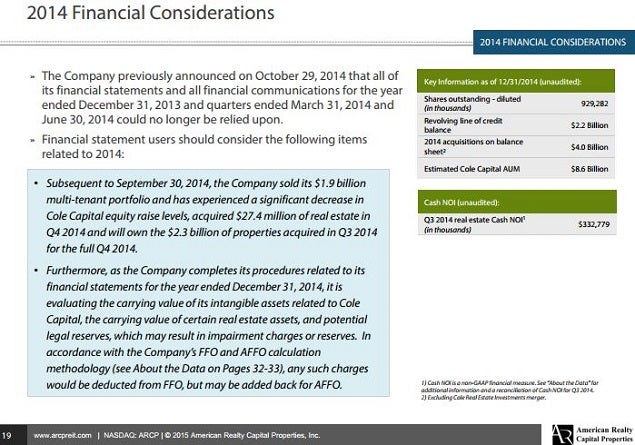 It appears that the valuation Cole Capital on the American Realty Capital Properties balance sheet will be adjusted downward to more accurately reflect the franchise value. Additionally, new assumptions regarding the Cole portfolio may negatively impact FFO calculations for Q4 and FY 2014.
Negative Issues – Governance
Related Party Transactions: According to the report, "Certain payments made by the Company to ARC Properties Advisors, LLC and certain of its affiliates that were not sufficiently documented or otherwise warrant scrutiny." American Realty Capital Properties reported recovering $8.5 million to date, with perhaps more to come.
Equity Awards Made to Former Executives: The report also stated, "One former executive has relinquished all of his equity awards. The other former executive agreed with the Company that the terms of his awards should have been consistent with the Compensation Committee's approval. This former executive has relinquished all of his equity awards other than 1,000,000 restricted shares, which were accelerated" (subject to a "clawback" provision).
Internal Control Weaknesses: "The investigation found material weaknesses in the Company's internal controls over financial reporting and its disclosure controls and procedures," which, the report further explained, are currently being corrected.
Related Link: American Realty Capital Properties Restates Financial Reports For FY2013 And First Two Quarters of 2014
Bottom Line
The results certainly could have been much worse, given the circumstances and the breadth of the investigation.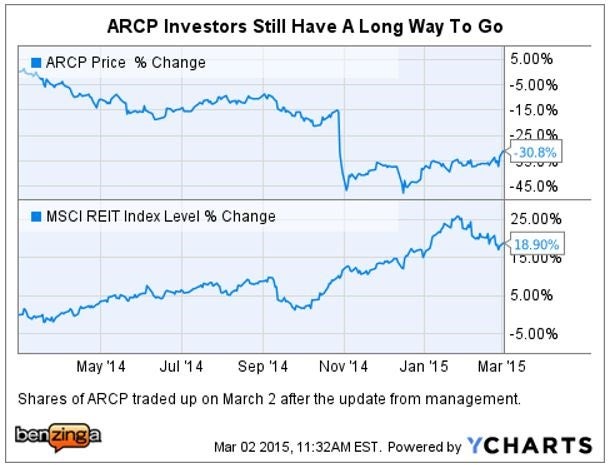 However, Mr. Market must still wait for FY 2014 financials, as well as the new American Realty Capital Properties dividend policy and 2015 guidance to be revealed, in order to accurately weigh the company's prospects moving forward.
Image credit: FAEF Wiki, Wikimedia
Posted-In: Cole Capital Nick SchorschNews REIT Legal Management General Real Estate Best of Benzinga
View Comments and Join the Discussion!