How Much Money Is $700 Billion? A Look At Apple's Market Cap In Context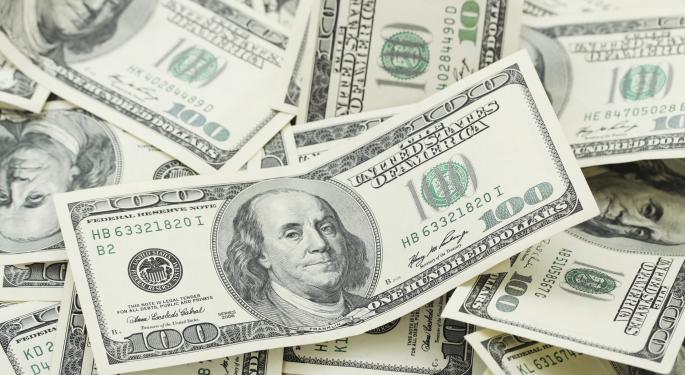 Apple Inc. (NASDAQ: AAPL) surpassed the $120 per share threshold on Wednesday, trading at an all-time high on a split-adjusted basis. The company's market capitalization is now very close to $700 billion (about $692 billion), maintaining its position as the largest publicly traded company in the world.
So exactly how much money is $700 billion? Here are a few comparisons to put the number in context.
Related Link: What The World's Richest Person Thinks Of Bitcoin
$700 billion is almost five times the government budget proposed for California –- the state with the largest budget -- for fiscal 2014 ($145.8 billion).
$700 billion is more than 218 times what the most valuable football team, the Dallas Cowboys, is worth ($3.2 billion) and 269 times the value of the Super Bowl champion New England Patriots ($2.6 billion).
$700 billion is about 105 times what the two largest soccer clubs in the world are worth...combined. Real Madrid ($3.44 billion) and Barcelona ($3.2 billion) together are valued at about $6.64 billion.
$700 billion is more than Switzerland's 2014 GDP ($679 billion) and about 3.5 times the GDP for New Zealand ($200 billion).
$700 billion is enough to buy 2185 McDonald's Corporation (NYSE: MCD) cheeseburgers -- or about six cheeseburgers a day for one year -- to each one of the roughly 320,274,540 U.S. residents.
$700 billion is enough to give more than $600 dollars to each resident in the continent of Africa.
$700 billion is enough to buy all of Google Inc's (NASDAQ: GOOG) (NASDAQ: GOOGL) and Microsoft Corporation's (NASDAQ: MSFT) outstanding shares.
$700 billion is enough to make the three richest men on Earth -- Bill Gates, Warren Buffett and Carlos Slim Helu -- jealous. Their combined net worth is $223.8 billion, less than one-third of Apple's current market cap.
Shares of Apple recently traded at $119.85, up 1 percent.
View Comments and Join the Discussion!
Posted-In: Bill Gates California Carlos Slim Helú Dallas Cowboys Delaware New England PatriotsIntraday Update Movers Best of Benzinga