All About Shake Shack's Secret Menu: Peanut Butter & Bacon!
Shares of Shake Shack Inc (NYSE: SHAK) on Friday closed at $45.90 -- up 118 percent ($24.90) -- after one of the most-talked about IPOs of the year.
Shake Shack started in 2001 as a hot dog cart, managed by restaurant entrepreneur Danny Meyer. Over the past 12 months, the company has retrieved more than $100 million in revenues and net income of more than $4.5 million.
Its market cap now stands around $1.63 billion, larger than Red Robin Gourmet Burgers, Inc. (NASDAQ: RRGB) and Noodles & Co (NASDAQ: NDLS), and about the same size as Sonic Corporation (NASDAQ: SONC). All three stocks were down more than 3 percent on Friday.
How will Shake Shack drive revenue growth going forward? A look at its secret menu might provide a partial answer.
Many of the main fast-food chains have a secret list of items, outside the known menu, that customers can request, like Burger King Worldwide Inc's (NYSE: BKW) "Frings," a mix of French fries and onion rings, or McDonald's Corporation's (NYSE: MCD) "Coke float," a glass of Coca-Cola mixed with vanilla soft serve.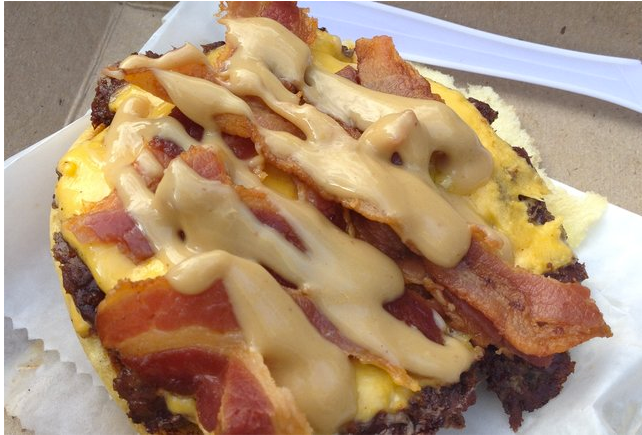 Photo: @lizchilders1
In Shake Shack's case, the secret menu includes grilled cheese made with buns instead of bread, and a Peanut Butter Bacon Burger (depicted above). Will you soon try one?
Posted-In: Peanut Butter Bacon Burger Secret MenuRestaurants IPOs General
View Comments and Join the Discussion!