A Closer Look At Digital Realty Trust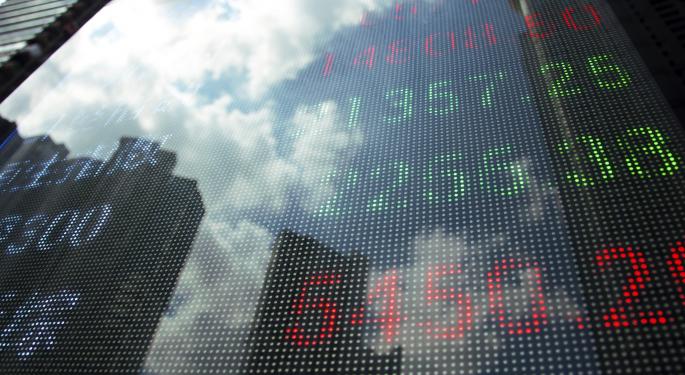 While the entire equity REIT sector performed well during 2014, one of the best performing subsectors was data center REITs, including Digital Realty Trust, Inc. (NYSE: DLR).
Data center REITs are essentially technology landlords that are well positioned to benefit from secular trends such as the exponential growth of wireless data and increased adoption of cloud computing across a wide range of industries.
Top data center performers from 2014 also included:
Tale Of The Tape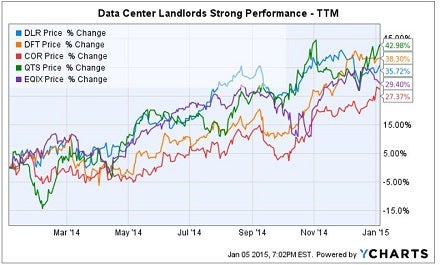 Although Equinix has yet to receive formal IRS REIT approval, its board has given the green-light to begin reporting as a REIT as of January 1, 2015.
A Win-Win Arrangement For Digital
Digital Realty and Equinix both operate on a global basis, with Equinix being a significant tenant for Digital.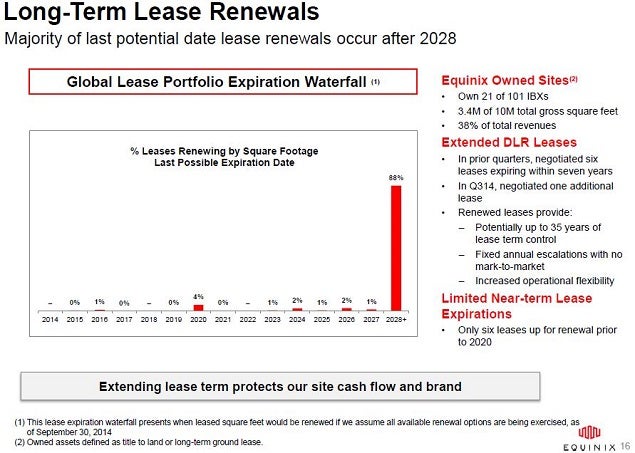 The arrangement appears to be mutually beneficial, with lease extensions having been announced during 2014 for the majority of the Equinix occupied facilities.
It was a big win for Digital, as the company continues to focus on increasing returns on invested capital under newly-confirmed CEO Bill Stein.
Related Link: How 1 Executive Gave Digital Realty A Giant Boost
Digital Q4 Leasing Activity
On January 5, Digital announced that it had signed new leases during Q4 2014 totaling over $45 million of annualized GAAP rental revenue, bringing its full-year total to more than $155 million.
On average, these Q4 leases are expected to commence in approximately five months, with a weighted-average initial lease term of just over eight years.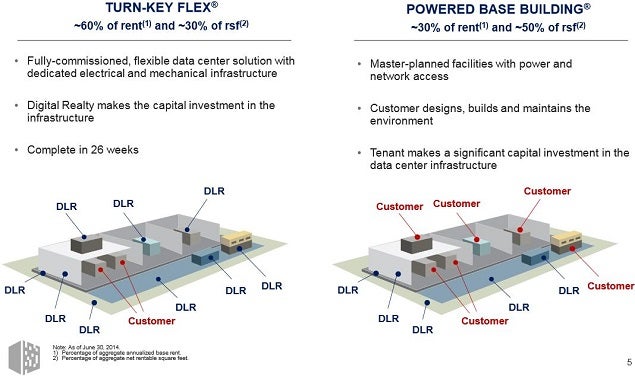 There was no clarification of the leasing revenues by product type: Turn-Key Flex, Powered Base Building (PBB) or colocation.
Digital Outlook - 2015
Digital also provided an initial 2015 core FFO per share guidance range of $5.00 to $5.10. This represents an increase of only 1 to 4 percent over full-year 2014 core FFO per share guidance of $4.90 to $4.95.
Qualifying assumptions as of January 5, included:
The sale of non-core assets will be dilutive to core FFO per share. The range above reflects a dilution of approximately 2 percent of core FFO per share in 2015, resulting from Digital Realty's capital-recycling program.
Projected core FFO per diluted share was adjusted up by $0.05 from projected FFO per diluted share to account for items that do not represent core expenses and revenues.
International results are anticipated to be under pressure from a strong U.S. dollar, which is reflected by a reduction of just over 1 percent per diluted share in the current guidance.
It is notable that the Euro traded as low as $1.1860, on January 5 -- its lowest level since 2006.
Investor Takeaway
Digital management was proactive in giving preliminary guidance so early after the end of Q4 2014. However, since there was no breakout of leasing activity -- either geographically, by product type or by $/SF -- it appears investors will need to wait until Digital reports its Q4 and FY 2014 earnings, scheduled for after the bell on February 12, in order to learn more.
Posted-In: Bill Stein cloud Data Center REITsREIT Guidance Trading Ideas General Real Estate Best of Benzinga
View Comments and Join the Discussion!