Benzinga's M&A Chatter for Tuesday December 16, 2014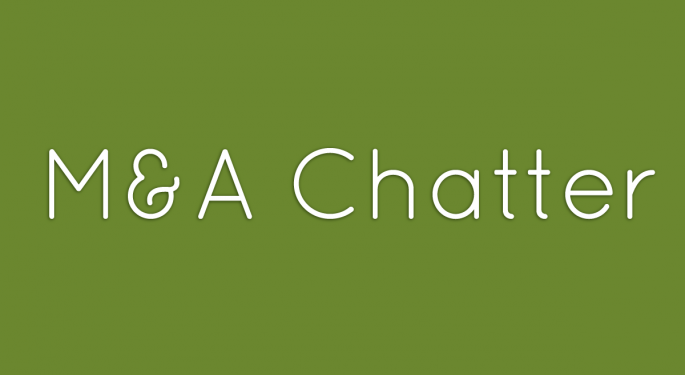 The following are the M&A deals, rumors and chatter circulating on Wall Street for Tuesday December 16, 2014
Report Pantry Close to $1B Sale
The Rumor:
Shares of The Pantry, Inc. (NASDAQ: PTRY) rose 12% after-hours Tuesday, on a Wall Street Journal report that the company is close to a deal to be acquired for as much as $1 billion, according to sources.
Pantry has reportedly hired an investment bank and bids were submitted last week. Sources say a deal could be announced within days.
Pantry shares closed Tuesday at $28.85, and traded as high as $34.00 after hours.
Citgo Receiving Bids Valuing Co at ~$10B
The Rumor:
Venezuela's Citgo Petroleum Corp has received revised bids from at least four companies, including Marathon Petroleum Corp (NYSE: MPC), Valero Energy Corp (NYSE: VLO) and HollyFrontier Corp (NASDAQ: HFC), that could value Citgo at more than $10 billion, according to a report from Reuters. Sources say some of the bids were above the $10 billion level, while others were less than $7 billion.
There is uncertainty as to whether the Venezuelan government will sell Citgo. Citgo declined comment on the report.
Repsol to Acquire Talisman Energy for $8.00/Share In Cash
The Deal:
Talisman Energy (NYSE: TLM) announced Tuesday, that it has entered into a definitive agreement, under which Repsol, S.A. (OTC: REPYY) will acquire all of the outstanding common shares of Talisman for US$8.00 per share in cash. The Talisman Board has unanimously approved the transaction; Talisman's common shareholders and preferred shareholders will vote on the transaction at a special meeting of shareholders to be held mid-February 2015.
Talisman shares gained 48% Tuesday, to close at $7.58.
View Comments and Join the Discussion!