How Tough Are Things In Spain These Days?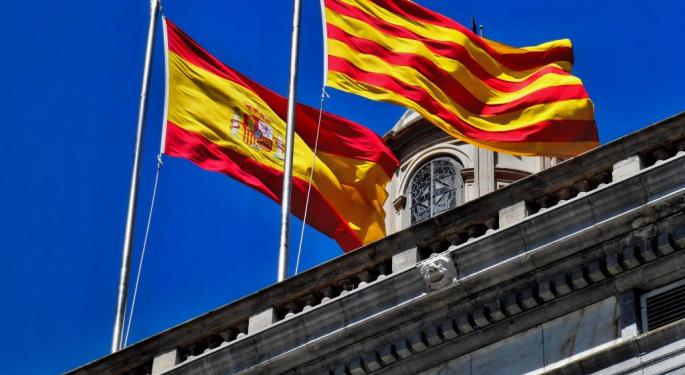 How would it feel to wake up and learn that a foreign real estate company just agreed to buy and lease-back government office buildings throughout a major state in the U.S.?
It appears that the economic malaise in Spain has presented such an opportunity for U.S. real estate investment trust W.P. Carey Inc (NYSE: WPC).
W.P. Carey specializes in build-to-suit and sale-leaseback transactions of mission critical real estate. Although two-thirds of these assets are located in the U.S., one-third of the company's real estate portfolio is international -- primarily located in Northern and Western Europe, and the United Kingdom.
Andalusia - Spain
The Spanish state of Andalusia consists of eight provinces, which contain 774 municipalities. Tourism is a major industry and most visitors go to enjoy sunny beaches, take in the bucolic countryside, and visit majestic castles.
The Opportunity
However, W.P. Carey property specialists have been focused recently on surveying a 70-building state government office portfolio totaling approximately 2.8 million square feet.
The buildings are occupied by state government agencies and departments such as Agriculture, Health, Education, Taxation, Trade & Tourism and Environmental Control. Basically, they house the bureaucratic infrastructure that is required to administer the day-to-day affairs of the local residents.
The State of Andalusia is rated BBB- by Standard & Poor's and Ba+ by Moody's.
The Deal
A W.P. Carey company release confirmed that the buildings were going to be leased to the State of Andalusia for a 20-year term, however, there were no other financial details provided in the W.P. Carey news release beyond the EUR 300 Million ($372 million) sales price.
According to a Bloomberg in Madrid piece published online by the South China Morning Post (SCMP) dated December 10, the Andalusia government rent would be for EUR 23.6 million annually for a 20-year period, but no details regarding annual rental increases were given.
Related Link: These REIT Acquisitions Can Tell A Sensitive Story
Typically, W.P. Carey negotiates an annual full CPI adjustment on its European triple-net lease transactions.
More Local Color
The SCMP Bloomberg article further stated that "WP Carey's purchase showed interest had spread beyond the country's biggest cities," according to Patricio Palomar, director of research and investment strategy at CBRE's Spanish unit. CBRE advised Andalusia on the transaction.
The article also pointed out that "Andalusia's regional government in 2011 hired BNP Paribas to sell the buildings. The sale was aborted as investors speculated that prices had not bottomed out."
Smart Money Is Focused On Spain
During a CNBC interview on December 3, Blackstone Chairman and CEO Steve Schwarzman commented on how "terrific" real estate has been for the firm. Schwarzman commented regarding Europe that "slow growth and pessimism has created buying opportunities."
Blackstone is getting good cash-on-cash returns on European real estate investments, he added.
Related Link: 2 Reasons REIT Investors Should Watch Spain And Portugal
On December 3, Prologis, Inc. (NYSE: PLD) announced that it had reached an agreement with TNT Express to build a 139,000 SF facility about 15 minutes from central Madrid and adjacent to the Madrid–Barajas Airport.
Image credit: Michael M, Flickr
View Comments and Join the Discussion!
Posted-In: Andalusia BNP Paribas CBRE spainREIT Trading Ideas General Real Estate Best of Benzinga