Bank Of America Issues Downgrade, Lowers Guidance For Upstream Oil & Gas Plays
A recent report by Bank of America lays out the repercussions that analysts expect in upcoming years from the recent collapse in oil prices. Bank of America lowered its projections for Brent and WTI prices and lowered price targets for several stocks that are exposed heavily to upstream oil and gas production.
The price of oil has fallen 40 percent since early summer, and the downward pressure on oil prices was compounded by OPEC's recent announcement that they will not be cutting back on production any time soon. In light of OPEC's decision, Bank of America analysts no longer believe that oil prices will stabilize at levels significantly higher than current prices.
Latest Forecasts
Analysts lowered their projected price for Brent crude oil in 2015 from $90 to $77 per barrel. Analysts also now see WTI crude falling as low as $50 per barrel before eventually stabilizing at around $72.
The report indicates that 2013 marks a near-term peak in oil capital spending. Despite remaining positive on longer-term North American energy production, oil services analysts predict a 14 percent decline in rig counts in 2015.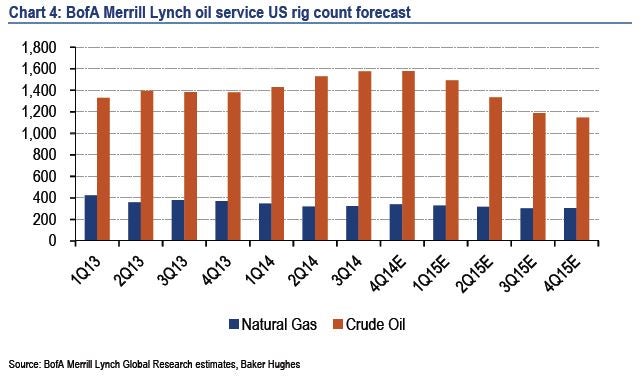 Dover Downgrade
Bank of America downgraded its rating on Dover Corp (NYSE: DOV) from Buy to Neutral and lowered its price target from $93 to $85. Analysts cited Dover's exposure to oil and gas drilling and production as the major reason for the downgrade, explaining that upstream oil and gas operations account for about 25 percent of Dover's total sales. Despite Dover's relatively high-quality assets portfolio, analysts predict a limited upside for Dover in 2015-2016.
Bank of America lowered EPS estimates for Dover by 3.5 percent for 2015 and by 6.6 percent for 2016.
Other targets lowered
Bank of America cut 2015 EPS estimates for other companies exposed heavily to upsteam oil and gas production by an average of 3 percent for 2015 and 5 percent for 2016. The report specifically lowered price targets and/or EPS projections for Emerson Electric Co. (NYSE: EMR), Flowserve Corp (NYSE: FLS), ITT Corp (NYSE: ITT), Pentair Plc (NYSE: PNR) and SPX Corporation (NYSE: SPW).
Investors in these companies will be going into 2015 with their breath held, hoping that oil prices stabilize sooner rather than later. Until that point is reached, analysts project that these upstream oil and gas plays are helpless to stop the bleeding from their bottom lines.
View Comments and Join the Discussion!
Posted-In: Bank of AmericaGuidance Downgrades Price Target Commodities Markets Analyst Ratings