Benzinga's M&A Chatter for Monday November 24, 2014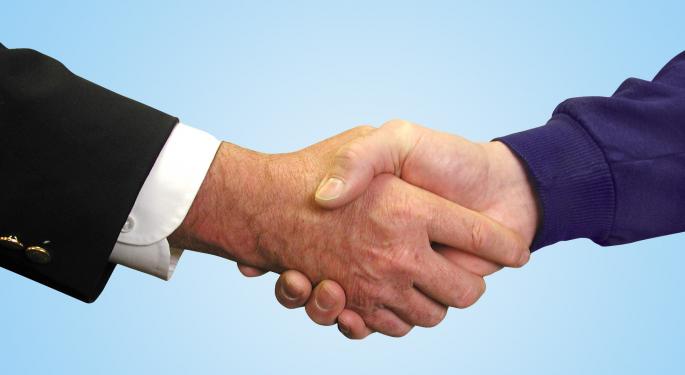 The following are the M&A deals, rumors and chatter circulating on Wall Street for Monday November 24, 2014:
BioMarin to Acquire Prosensa for $17.75/Share
The Deal:
BioMarin Pharmaceutical Inc. (NASDAQ: BMRN) and Prosensa Holding N.V. (NASDAQ: RNA) announced Monday, an agreement whereby BioMarin will offer to purchase all of the outstanding ordinary shares of Prosensa for $17.75 per share, or total up front consideration of around $680 million. Aditionally, two $80 million contingent milestones are payable for the approval of drisapersen in the U.S. no later than May 15, 2016 and in Europe no later than February 15, 2017.
The deal is expected to close in Q1 of 2015.
Prosensa closed Monday at $18.60, a gain of 62%.
RenaissanceRe Holdings to Acquire Platinum Underwriters for $76.00/Share in Cash, Stock Deal
The Deal:
RenaissanceRe Holdings Ltd. (NYSE: RNR) and Platinum Underwriters Holdings, Ltd. (NYSE: PTP) announced Monday, a merger agreement under which RenaissanceRe will acquire Platinum for $76.00 per share in cash, or approximately $1.9 billion. At closing, Platinum shareholders will receive a $10.00 per share special pre-closing dividend and will be entitled to elect to receive, for each Platinum share held, either (i) $66.00 in cash, (ii) 0.6504 RenaissanceRe common shares or (iii) 0.2960 RenaissanceRe common shares and $35.96 in cash.
The deal is expected to close in H1 of 2015
Platinum Underwriters shares gained 21% Monday, to close at $74.19.
3D Systems to Acquire Cimatron for $8.97/Share in Cash
The Deal:
3D Systems Corporation (NYSE: DDD) and Cimatron Ltd. (NASDAQ: CIMT) today announced a definitive agreement under which 3DS will acquire all of the outstanding shares of Cimatron for $8.97 per share in cash, subject to certain adjustments for Cimatron transaction expenses, for a total of approximately $97 million, inclusive of its net cash.
The companies expect the transaction to close in the first quarter of 2015.
Cimatron closed Monday at $8.65, a gain of 42%, while 3D Systems gained 6.5%, to close at $37.50.
Stryker Weighing Offer for Smith & Nephew
The Rumor:
U.S. medical device maker Stryker Corp (NYSE: SYK) is considering a bid for the UK's Smith & Nephew Plc (NYSE: SNN), according to Bloomberg, citing unnamed sources.
A Smith & Nephew spokesperson declined comment on the report. Stryker did not immediately respond to requests for comment.
Smith & Nephew closed Monday at $36.12, a gain of more than 4%.
HealthSouth to Acquire EHHI Holdings for $750M
The Deal:
HealthSouth Corporation (NYSE: HLS) announced Monday, it has entered into a definitive agreement to acquire privately held EHHI Holdings, for approximately $750 million. The deal is expected to close before the end of 2014.
HealthSouth closed Monday at $40.24, a gain of 5%.
Report Says Google to buy GoPro in 2015
The Rumor:
Shares of GoPro, Inc. (NASDAQ: GPRO) spiked higher Monday, on a report from CCS Insight: "Predictions for 2015 and Beyond" via Wearable that Google Inc. (NASDAQ: GOOGL) would buy the maker of wearable cameras in 2015.
Spokespersons for GoPro and Google were not available for comment.
GoPro closed Monday at $72.54, a gain of 2.5%.
View Comments and Join the Discussion!
Posted-In: M&A News Rumors Movers