This REIT IPO Just Hit The Market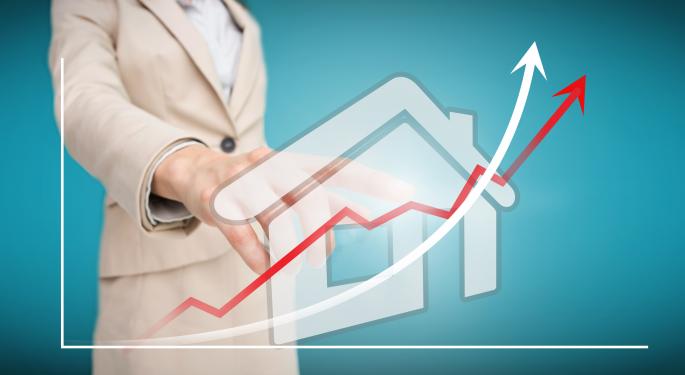 Most investors are usually too busy to give much thought about the office building where they work unless the roof leaks, the lights go out, or there is an interruption in air conditioning or heating.
However, this week Class-A office buildings are front and center on Wall Street. Investors familiar with the REIT sector are understandably focused on the Paramount Group Inc (NYSE: PGRE) that began trading on the NYSE Wednesday under the symbol PGRE.
The Paramount IPO represents what is expected to be the largest office REIT IPO in history, eclipsing prominent California office landlord Douglas Emmett, Inc. (NYSE: DEI) record $1.6 billion IPO debut in 2006. Paramount Group planned to offer 131 million shares at an IPO price range of $16 to $19 per share; It closed $18.18, up 2.9 percent ($0.68).
Related Link: The Blackstone Group New York REIT: More Real Estate Is Changing Hands
Timing, Timing, Timing
If Paramount management was prescient, they could not have picked a much better week to take an office REIT public, especially one that derives the vast majority of its revenue from prominent Class-A office towers located in mid-town New York. The balance of the Paramount portfolio is located in a high barrier to entry markets in San Francisco and Washington D.C.
On Monday, The Wall Street Journal reported that The Blackstone Group L.P. (NYSE: BX) had agreed to sell the 1095 Avenue of the Americas building to a Canadian pension fund investment group for $2.25 billion. This would be the largest U.S. office building sale since the GM building in New York sold for $2.8 billion back in 2008.
The 42-story 1095 Avenue of the Americas building contains 1.2 million square feet of space and was reportedly 99 percent leased to premier tenants, including MetLife and headquarters for Verizon Communications. The $2.25 billion price would translate to approximately the lofty amount of $1,875 per square foot.
Location, Location, Location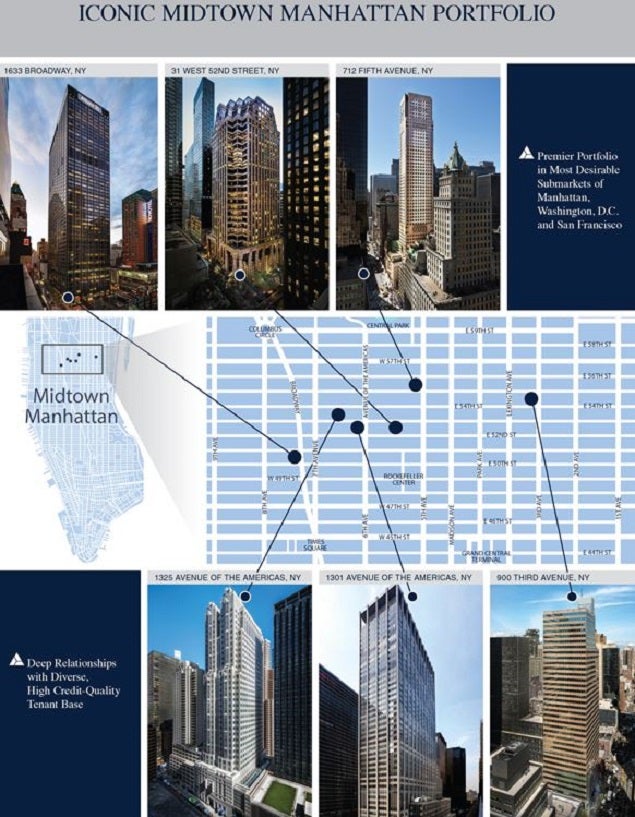 Source: Company S-11/A filing
According to company filings, 75.6 percent of Paramount Group annualized rent come from its Class-A mid-town Manhattan office buildings.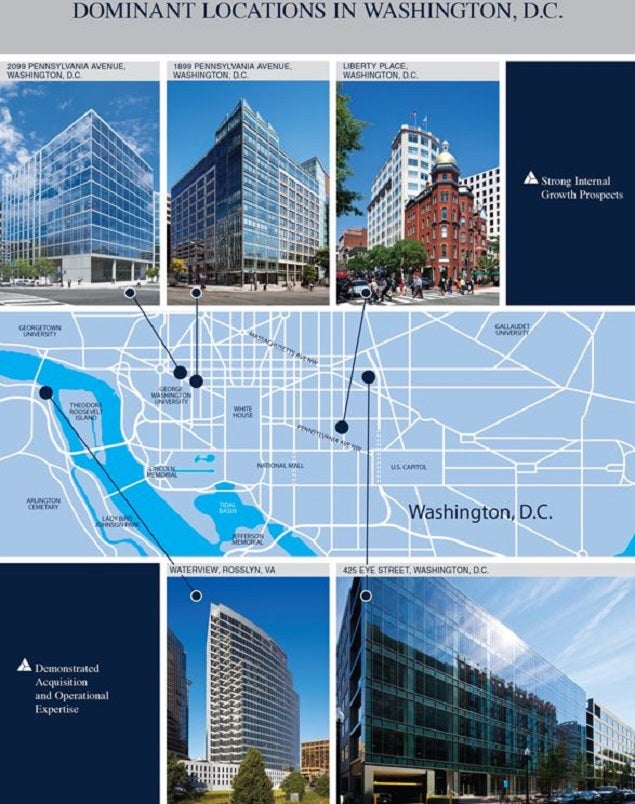 Source: Company S-11/A filing
The Washington, D.C. portfolio accounts for 11.67 percent of annualized rent.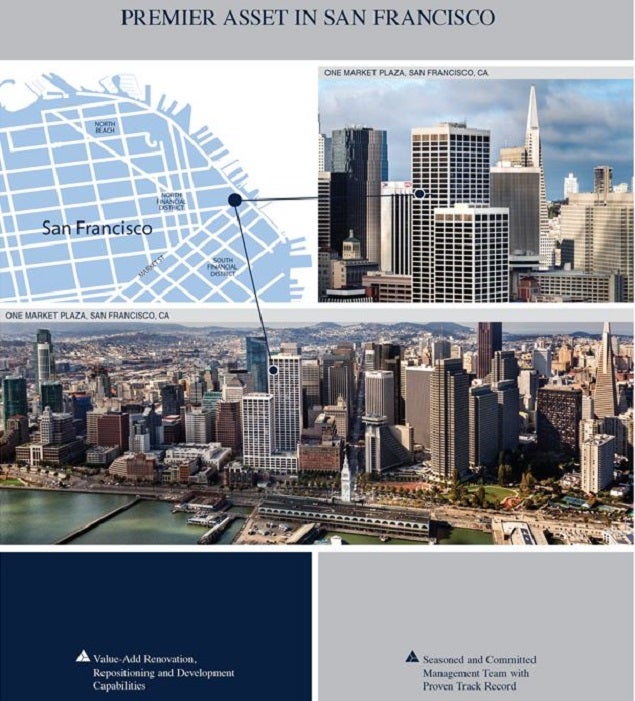 Source: Company S-11/A filing
San Francisco assets also include 50 Beale Street and generate 12.7 percent of annualized rent for Paramount Group.
Management Track Record
CEO and Chairman Albert Behler has been at the helm of Paramount Group and its predecessor since 1991. Under his stewardship, from the beginning of 1995 through September 30, 2014, the company "generated an aggregate gross unlevered IRR of 18.5 percent and an aggregate gross levered IRR of 28.4 percent on our 15 realized property investments, which represents a total of $2.2 billion of proceeds."
As of September 30, the Paramount Group portfolio consisted of 12 Class A office properties with an aggregate of approximately 10.4 million rentable square feet, 92.1 percent leased to 260 tenants.
How Have Publicly Traded REIT Peers Performed?
While it is not possible to directly compare the Paramount Group portfolio with those of its publicly traded REIT peers, $19.5 billion cap Boston Properties, Inc. (NYSE: BXP) is widely considered to be the blue-chip in the office REIT sector.
Related Link: UPDATE: Mizuho Securities Initiates Coverage On Boston Properties
Boston Properties has a portfolio mix of New York/Princeton, 40 percent; Washington, D.C. metro, 20 percent; and the San Francisco Bay Area, 11 percent, with the balance of its portfolio in Boston. Boston Properties has rewarded shareholders with an impressive 29.5 percent total year-to-date return.
Potential Risk Factor
One potential issue for investors in this space would be the Terrorism Risk Insurance Act (TRIA). The most recent extension of the original 2002 law is set to expire on December 31, 2014.
This act provides a federal "backstop" for large insured losses due to terrorism, similar to the almost $30 billion World Trade Center claims. In the event this act is not extended in some fashion, all bets would be off regarding the cost and availability of insurance associated with owning large trophy properties.
According to a Bloomberg report on the evening of November 18, Paramount Group priced its IPO at $17.50 for and raised just under $2.3 billion.
View Comments and Join the Discussion!
Posted-In: Mizuho Securities Paramount Group (NYSE: PGRE)REIT IPOs General Real Estate Best of Benzinga