Benzinga's M&A Chatter for Monday October 13, 2014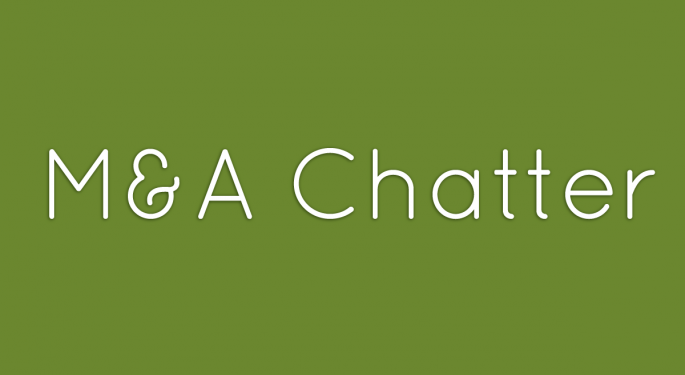 The following are the M&A deals, rumors and chatter circulating on Wall Street for Monday October 13, 2014:
NetScout Systems to Acquire Danaher's Communications Business
The Deal:
NetScout Systems, Inc. (NASDAQ: NTCT) announced Monday, that it will acquire the Communications business of Danaher Corporation (NYSE: DHR), including Tektronix Communications, Arbor Networks, plus certain parts of Fluke Networks, for approximately 62.5 million shares of NetScout common stock. That values the transaction at $2.6 billion based on NetScout's closing price of $41.91 on October 10, 2014.
The deal is expected to close in the first half of NetScout's FY 2016.
NetScout shares closed Monday at $39.16, and traded near $42.00 after hours.
Targa Resources Partners LP, Targa Resources Corp. Announce Purchase of Atlas Pipeline Partners LP, Atlas Energy LP for $7.7B
The Deal:
Atlas Pipeline Partners, L.P. (NYSE: APL) announced Monday that the Partnership has entered into an agreement to be acquired by Targa Resources Partners L.P. (NYSE: NGLS) in a transaction valuing Atlas Pipeline at $7.7 billion. Atlas Pipeline shareholders will receive consideration valued at $38.66 per unit in total. Atlas Pipeline limited partner unitholders will receive a fixed ratio of 0.5846 units of Targa Resources and $1.26 in cash for each outstanding Atlas Pipeline common unit.
In addition, Targa Resources Corp. (NYSE: TRGP) executed a definitive agreement to acquire Atlas Energy, L.P. (NYSE: ATLS), after the completion of a spin-off of non-related APL assets, for approximately $1.9 billion. Prior to TRC's acquisition, ATLS will distribute all of its assets not associated with APL. ATLS unitholders will receive consideration of 10.35 million TRGP shares issued to ATLS unitholders as well as $610 million of cash, and a pro rata share in 100% of ATLS' distributed non-midstream assets.
Atlas Energy closed Monday at $37.25, a gain of almost 15%, while Atlas Pipeline Partners gained more than 1%, to close at $34.05. Targa Resources lost 10% to close at 109.31.
Iliad Ends Pursuit of T-Mobile US
The Termination:
Shares of T-Mobile US, Inc. (NYSE: TMUS) sold off Monday, following a report that Iliad (OTC: ILIAY) had ended its effort to acquire the U.S. number four carrier. Iliad said Deutsche Telekom (OTC: DTEGY) and board members of T-Mobile refused to entertain its new offer, for a 67% stake valued at $36.00 per share.
Iliad had previously offered $33 per share for a 56.6% stake.
T-Mobile US shares fell 2.5% Monday, to close at $26.92.
Posted-In: News Rumors Management M&A Movers
View Comments and Join the Discussion!