Analyst Expectations For Tesla 'D' Revealing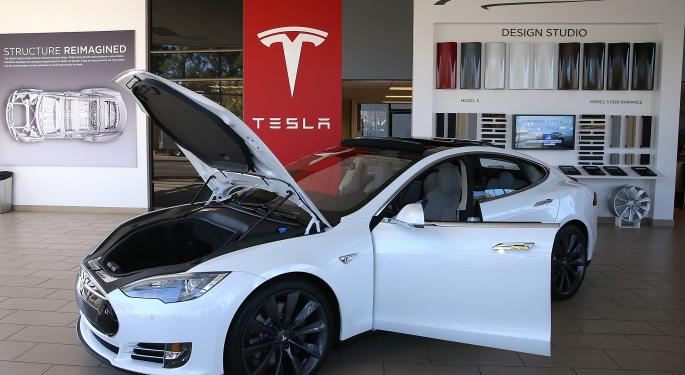 There's been a lot of speculation and conjecture as to what exactly Tesla Motors Inc (NASDAQ: TSLA) CEO Elon Musk will reveal at the automaker's unveiling event Thursday evening.
It all started with a tweet from Musk last week hinting at a new model or product called the 'D.' Since then, analysts and journalists alike have circulated rumors of everything from a van for small businesses to a long-distance battery-powered vehicle.
Here's a breakdown of what is generally being expected:
All-Wheel Drive
Most of the speculation is that Tesla will present an all-wheel drive vehicle, AutoTrader Group Director of Automotive Relations Michelle Krebs told Benzinga.
"If that's true, that makes perfect sense," Krebs said. "It extends their accessibility in places like the North and Northeast."
Related Link: Why Selling Used Cars Could Work For Tesla Motors Inc
Tigress Financial Partners Chief Investment Officer Ivan Feinseth expects the the all-wheel drive to be on the current Model S. Feinseth told Benzinga that he thinks it will be the same version of the four-door vehicle, but with two engines.
Mostly all vehicles have a hump running down the center of the car to make room for the drive shaft, which transfers power to the drive wheels from the transmission.
"The reason the Tesla floors are flat is that there's no drive shaft," Feinseth explained. "The engine is in the rear for the rear wheels, so for them to make [the vehicle] all-wheel drive, they would just have to put another engine in front."
Elon Musk says Tesla's "D" is already out there: The "Internet is very good at guessing." http://t.co/zoxcyuIW1P pic.twitter.com/6wakqOwbSR

— MarketWatch (@MarketWatch) October 9, 2014
Patrick Moorhead, President and Principal Analyst at Moor Insights & Strategy also thinks the 'D' will be a premium vehicle, although he did not specify whether or not he thought it might be another version of the Model S. He told Benzinga that the new vehicle could be the best-seller that Tesla had been.
"I guess what I mean in terms of selling is revenue, not units. I'm expecting a very high price," he said. "It'll be lower in volume than the standard, but it will be a premium product to go up against the highest performance sports cars out there: the Porsches, the Ferraris, stuff like that."
Driverless
Others have speculated that the 'D' stands for driverless. Sean Udall, CIO of Quantum Trading Strategies and author of The TechStrat Report, told Benzinga that he thinks Tesla will be one of the first companies with a leadership position in autonomous vehicles.
"If they come out with that ... basically a driverless car -- it's gonna be very, very cool, and it's going to be very disruptive to the industry," he said.
The key here, Udall said, is the time-to-market. Even if Tesla presents a prototype of a driverless vehicle, Udall said that the question would be how soon the automaker can have that available for sale.
Distance
Another theory that has surfaced is that the 'D' could mean distance. Udall said that an all-wheel drive car, alone, would be kind of a letdown. But, if Tesla was able to make a fully-electric, all-wheel drive vehicle with a big mileage range, Udall said it would be a "pretty amazing feat of engineering achievement."
Krebs also mused over the idea of Tesla doing something special with the all-wheel drive function.
Related Link: Why Tesla Motors Inc Isn't A Car Company
"Because it's an electric car, they may have an innovative way of doing all-wheel drive," she said. "I don't know that for a fact, but that's certainly something that crossed my mind."
Tesla's unveiling event is being held at an airport near Tesla's design studio outside of Los Angeles at 7 p.m. PT tonight.
Louis Bedigian contributed to this story.
Posted-In: Elon Musk Ivan FeinseithNews Travel Events Top Stories Tech General Best of Benzinga
View Comments and Join the Discussion!