3 Companies Helping To Keep Diabetes Rates Lower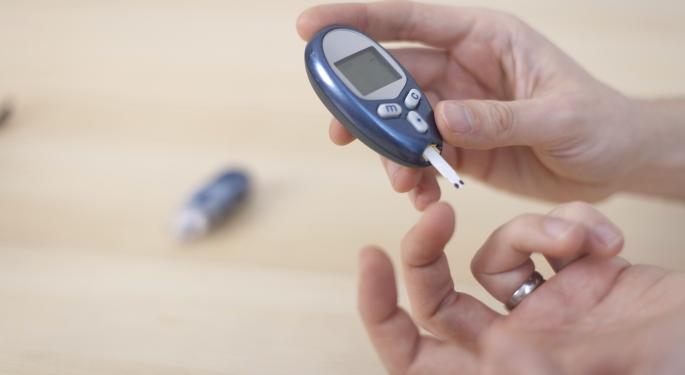 There has been some good news recently regarding diabetes, according to the Centers for Disease Control and Prevention.
A new study published in the Journal of the American Medical Association indicated that after almost two decades of increase, the rate of diabetes in the United States may be leveling off.
Contributing Factors
Dr. Ann Albright, director of the CDC's Division of Diabetes Translation, told The Wall Street Journal that a leveling of obesity rates in the United States could account for much of the plateau effect in diabetes rates.
Related Link: Google Smart Contact Lens Would Help The Blind And More
In addition, new hemoglobin A1C testing protocols could be less accurate than former standardized diagnostic tests, resulting in lower rates of detection, Dr. Albright said.
Corporate Innovation And Support
Although not directly linked to the slowing rate of diagnosis, a number of companies have made news through cooperation in combating and preventing diabetes.
That cooperation ranges from support for research to the development of innovative diabetes preventive products to producing foods that promote good health.
Here are three public companies (among many) helping to keep diabetes rates lower.
1) Novo Nordisk A/S (NYSE: NVO)
The American Diabetes Association's Banting Circle Elite member, Novo Nordisk A/S, was among several corporate sponsors noted for support of diabetes research.
The company received special mention for its participation as a founding sponsor of the Pathway to Stop Diabetes research program.
Novo Nordisk this year introduced the NovoPen Echo, an insulin pen with a memory, designed for children and considered one of the most innovative new diabetes-related products to come out in recent years.
2) Google Inc (NASDAQ: GOOG) (NASDAQ: GOOGL)
One of the most exciting developments in diabetes prevention and treatment has been the research Google has undertaken related to its smart contact lens. The potential for a contact lens that could read glucose levels in the blood in a constant and non-invasive way would be groundbreaking.
While it may be years before such a product comes to market, Google's research alone has kept the conversation in the news on an almost constant basis.
Related Link: 3 Soft Drink Kings Pledge To Make Americans Healthier
3) The Coca-Cola Company (NYSE: KO)
After years of empty promises (not to mention empty calories), a recent pledge by major soft drink makers to lower calories in their drinks by 20 percent over the next 10 years was welcome news.
The Coca-Cola Company took on obesity, a leading contributor to diabetes, as a target beginning in 2013 with the release of its "Coming Together" campaign.
Most recently, the company introduced Coca-Cola Life, a cane sugar and stevia leaf extract sweetened soft drink offering 35 percent fewer calories than other leading cola drinks, according to the company.
At the time of this writing, Jim Probasco had no position in any mentioned securities.
View Comments and Join the Discussion!
Posted-In: American Diabetes Association CDC Google Inc. Novo Nordisk A/S The Coca-Cola CompanyHealth Care Top Stories General Best of Benzinga