What To Expect When You're Expecting: Alibaba Group Holding Ltd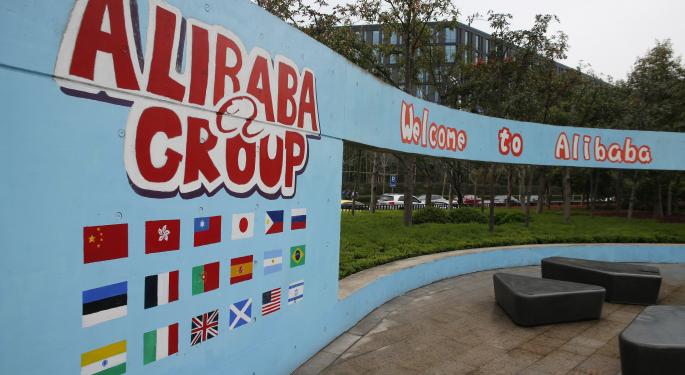 Alibaba Group Holding Ltd (NYSE: BABA) is finally here.
The Chinese E-commerce mammoth expects to be the largest U.S. IPO in history by raising up to $25 billion from investors. When hype and expectations get bloated, reality can be distorted.
Truths
Alibaba is a big deal -- literally. Not only is it the largest e-commerce retailer in China, but it will also be the largest in the world. Even Amazon.com, Inc. (NASDAQ: AMZN) pales in comparison to Alibaba's size.
Alibaba's business is unique in that it houses smaller, related businesses under one roof. Alibaba's business are Taobao Marketplace, Tmall, Juhuasuan, Alibaba.com Ltd., 1688.com (Alibaba.com Limited) and AliExpress.
Taobao, Tmall and Juhuasuan are the three retail marketplaces and accounted for 81.6 percent of Alibaba's revenue in 2014. According to iResearch, Alibaba.com is China's largest global online marketplace by revenue. 1688.com is Alibaba's wholesale marketplace, and AliExpress is a global consumer marketplace.
Related Link: The Alibaba IPO & Six Other New Issues For The Week Of September 15
Most of Alibaba's revenues are generated through marketing services, commissions, fees, memberships, value-added services and cloud computing. Since 2012, revenues are up more than 160 percent, from $3.2 billion to $8.4 billion for the year ending March 31, 2014.
Converting shoppers into buyers has been a breeze since 2012 as well. For the 12 months ending June 30, 2012, 133 million people made purchases through Alibaba. The same time period for 2014 saw that number rise to 279 million, a 109-percent increase.
According to iResearch, online shopping in China represents 8 percent of consumption. That number is projected to grow at an astonishing 36 percent through 2016, positioning Alibaba well to take advantage of that trend.
Alibaba's self-defined strengths are having management with a clear long-term mission, a variety of trusted brands, a deep and growing ecosystem of buyers, sellers and providers, and a cost-effective and reliable process to scale its proprietary technologies.
Even though the natural growth rate for Alibaba's industry in China is astounding, the company is still putting together long term strategies to cement its place as a global leader in e-commerce.
Related Link: NYSE Tops 2014 Most Active Stock Exchanges Before Alibaba Debut
One strategy to do this is to increase active buyers by providing best-in-class customer service, loyalty programs, and marketing itself through promotional campaigns. Alibaba also intends to expand the number of category offerings and according to its S-1, "build upon our strength in mobile commerce to develop a broader spectrum of customer offerings."
Another way is to make the sellers more successful so they will continue to choose Alibaba as their main partner for online sales. Alibaba intends to do this by, "increasing their exposure to relevant buyer demand and providing them with more tools," in order to "manage their relationships with customers."
Looking at the books, the company is a well-financed growth stock. There is some debt on the balance sheets, but nothing to be alarmed about. Investors' biggest concerns should be the myths purported by talking heads and other media sensationalists.
Myths
Alibaba is not the only Chinese company to go public on a U.S. listed exchange. People tend to forget that China has other successful publicly traded companies.
Alibaba is compared to Amazon. It's like Amazon in a lot of ways, but it's not Amazon. JD.com Inc (NASDAQ: JD) is more like Amazon because it is solely an online marketplace and specializes in shipping items—so much so that most items can arrive the same day they're shipped by a professionally trained delivery specialist.
JD.com is up almost 30 percent since its May debut.
Alibaba is compared to Google Inc (NASDAQ: GOOGL) (NASDAQ: GOOG) because of its search capability. Okay, but the $75 billion Baidu Inc (NADAQ: BIDU) already does search in China, and does it well. Baidu is up almost 1,700 percent from its 2005 debut.
Alibaba's organizational structure has been compared to the tech giants of Silicon Valley, where the founder comes up with a revolutionary idea and drives the company to develop the new technology. When Amazon's Jeff Bezos decides to use drones to deliver packages, the company charges forward in pursuit of realizing that goal.
Alibaba's Structure and Organization
Alibaba's Jack Ma develops and refines existing technologies to create an empire of standalone parts beneath him that rely on the partnership. In a letter within the S-1 filing he says, "We do not simply attempt to push the boundaries of technology—instead we work to harness technological advancements to expand the boundaries of business." No one component is entirely dependent on him.
Continuing on in that same letter he says, "Our partnership approach has helped us to better manage our business, with the peer nature of the partnership enabling senior partners to work as a team and override bureaucracy and hierarchy." He continues on to say, "Our ecosystem is too complex—and too important—for us to depend on one or two founders or executives, no matter how capable they are."
Alibaba Is Alibaba
Let Alibaba be Alibaba and not anything else. Be wary of buying hype and not minding the due diligence component of investing. Jack Ma and the Alibaba partners are committed to the long-term vision and success of the company, not necessarily the immediate return of shareholder value. Carefully consider any claims that the stock has to soar after its debut.
Pricing Information
Alibaba expects to open for trading on Friday, September 19 on the New York Stock Exchange under the ticker "BABA". Underwriters Credit Suisse, Deutsche Bank, Goldman Sachs, J.P. Morgan, Morgan Stanley and Citigroup are offering 320,106,100 American Depository Shares within the range of $66 to $68 per share. Expect the offering to price tonight or early Friday morning.
Disclosure: At the time of writing, the author holds no positions in the mentioned securities.
Posted-In: Alibaba Amazon China e-commerceIPOs Top Stories Tech Trading Ideas Best of Benzinga
View Comments and Join the Discussion!