How Post Is Lagging Behind General Mills, Kellogg In Breakfast Wars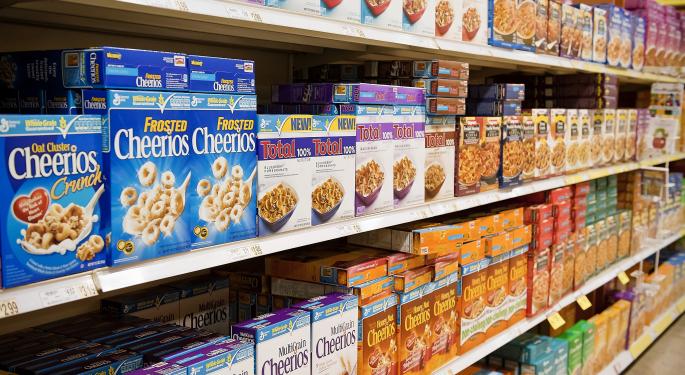 According to an Oxfam International briefing paper titled Behind the Brands, 10 corporations control the world's food supply. Two of them, General Mills (NYSE: GIS) and Kellogg (NYSE: K) have seen stock prices rise in value over the past year.
One company not on that list, Post (NYSE: POST), has not fared as well with share prices down more than 17 percent over the preceding 12 months.
For comparison, General Mills stock is up almost nine percent and Kellogg is up nearly 4.5 percent over the same period.
Related Link: General Mills Q4 Conference Call Summary
General Mills
Behind the results lie factors such as General Mills arrival on Forbes' "Most Innovative Companies" list. The list, a measure of how much investors have bid up stock prices based on their expectations of future innovative results, cited General Mills for its gluten-free and protein-enhanced product line.
Although General Mills received a low rating from Oxfam for its overall approach to major policy issues, the company's pledge to implement specific emissions targets and to improve transparency by naming suppliers of palm oil and sugar earned it praise.
Jim Cramer's The Street rated General Mills a Buy with an A rating. The Street noted that despite a decline in revenue and a slight underperformance compared to the S&P 500 index, the company's bottom line has not suffered, resulting in an increased earnings per share.
The company posted nearly $18 billion in revenue in 2013.
Kellogg
Among top performing food companies, Kellogg is one of the smallest by revenue. The company still achieved $14.8 billion in sales in 2013. Kellogg bills itself as the world's leading cereal company and second-largest cookie maker.
Kellogg, which makes 1,600 different food products and sells them in more than 180 countries around the world, achieved a low overall rating from Oxfam. The company, however, was praised for its promise to cut greenhouse emissions in its supply chain.
In addition, according to Bloomberg, share prices jumped the most in five years in April after options trading suggested possible takeover activity.
The Street has a Buy (A-) rating on Kellogg and a price target of $74.79.
Related Link: Shares Of Post Fall 20%
Post
With revenue of $1.7 billion in 2013, Post falls far short of both General Mills and Kellogg. More importantly, while both General Mills and Kellogg showed a positive balance at the end of the year, Post had a $70.1 million loss.
Post was downgraded from Buy to Hold by The Street in August. Strengths, including robust revenue growth and positive cash flow did not counter weaknesses like anemic EPS, dropping net income and an uninspiring return on equity.
Zacks rated Post a Strong Sell, saying it may be time to exit before the company shows even more losses than it has recently.
At the time of this writing, Jim Probasco had no position in any mentioned securities.
Posted-In: Bloomberg Forbes General Mills Jim Cramer KelloggMovers & Shakers Media General Best of Benzinga
View Comments and Join the Discussion!