ClubCorp CEO Eric Affeldt Thinks Golf Is 'Alive And Well'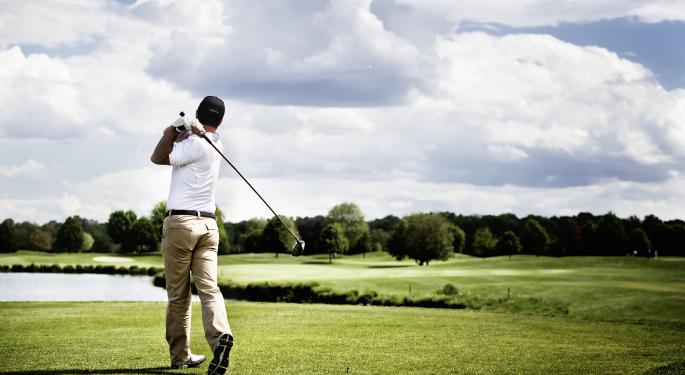 Directly addressing the notion that golf is struggling, ClubCorp (NYSE: MYCC) CEO Eric Affeldt told Benzinga that statement was a radical oversimplification.
"There are sectors in golf like us who are doing quite well," Affeldt said, "and there are sectors like the retail side who appear to have had some challenges lately and they're blaming it on golf."
Affeldt offered proof of his corporation's overall good health.
Related Link: Golfing Is Lost In The Shuffle As Millennials Follow Different Course
Acquisitions
ClubCorp, the largest owner-operator of golf and country clubs in the United States, recently announced the $265 million acquisition of rival Sequoia Golf. That acquisition will increase the company's club count by 31 percent to 209, from 159 today.
A Multi-Dimensional Business Model
Affeldt said ClubCorp's succes, comes in part from the fact the company's business model is not simply constructed around golf and golf courses.
"We have repeatedly said we're in the membership business," Affeldt noted. People don't just come to one of our clubs to play golf. The come to dine, to swim, to play tennis, to recreate, and to work out."
Affeldt continued, "Golf is a part of what we do … but it's not all that we do."
The net result, according to Affeldt, is that the ClubCorp product is both multi-dimensional and multi-generational.
Millennials
One reason given for a decline in golf's popularity is, as Forbes columnist Matt Powell put it, "The values of golf do not match up with the values of millennials."
Concerns include the amount of time it takes to play a round of golf, the lack of diversity both by race and by gender and the general notion that golf is "stuffy."
Affeldt said ClubCorp has addressed those and other issues in a proactive attempt to attract all ages and playing levels.
Time
Part of the answer involved expanding practice facilities and initiating shorter rounds of three, six and nine holes in order to accommodate players who don't have time for a full 18 holes. These simple fixes, he said, go a long way toward making the game faster and more fun.
Exclusive But Not Exclusionary
Noting the 57-year history of ClubCorp, Affeldt said founder Robert H. Dedman, Sr. strove to make courses "exclusive without being exclusionary."
In addition, he said, the emphasis was always on family.
In another nod to millennials and others whose lifestyles tend to be both more casual and contemporary, jeans are encouraged and electronics are allowed in ClubCorp facilities. On the course, common courtesy and professional behavior are all that's required.
Related Link: Fast Money Traders Debate Dicks Sporting Goods
Unabashedly 'For Profit'
Financially, ClubCorp is more than holding its own. ClubCorp Communications Manager Patty Jerde noted ClubCorp shares were priced at $14 at the company's IPO launch in September 2013 and traded recently around $18.60, an increase of nearly 30 percent over that period.
Saying, "We are unabashedly 'for profit,'" Affeldt drew attention to a 29 percent operating margin in the golf and country club division, which helps ensure a profitable operation.
For members, Affeldt said, the quid pro quo is a strict "no assessment" policy that provides protection against the unexpected when it comes time for damage repair or capital improvements.
At the time of this writing, Jim Probasco had no position in any mentioned securities.
Posted-In: ClubCorp Eric Affeldt Forbes GolfPsychology Success Stories Interview General Best of Benzinga
View Comments and Join the Discussion!