Benzinga's M&A Chatter for Thursday August 14, 2014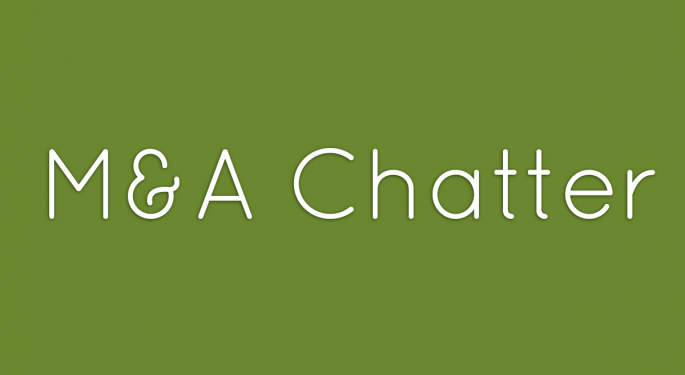 The following are the M&A deals, rumors and chatter circulating on Wall Street for Thursday August 14, 2014:
Heartland Payment Systems Acquires Leaf
The Deal:
Heartland Payment Systems (NYSE: HPY) announced Thursday, that it acquired Leaf, which created a POS tablet specifically designed for commerce. Terms of the deal were not disclosed.
Heartland Payment Systems shares closed Thursday at $47.17, a gain of $0.01%.
OmniVision Receives Non Binding Proposal for $29/Share
The Offer:
OmniVision Technologies (NASDAQ: OVTI) announced Thursday, that its board of directors has received a non-binding proposal in a letter dated August 12, 2014 from Hua Capital Management, indicating that a group of investors led by HCM proposes to acquire all of the outstanding shares of common stock of OmniVision for $29.00 per share in cash. HCM is headed by Dr. Xisheng Zhang of Hua Capital Management, whose previous company, Accelicon was acquired by Agilent in 2011.
OmniVision's board of directors is reviewing HCM's proposal.
OmniVision Technologies closed at $28.29 Thursday, a gain of 15%.
Report Shutterfly Receiving Competing Bids from PE Firms
Shares of Shutterfly (NASDAQ: SFLY) surged higher Thursday, on a report from The Deal that the company is receiving competing bids from private equity companies. The deal reportedly will close this year.
The Rumor:Bloomberg reported on July 2, that Shutterfly had hired Qatalyst to handle a potential sale. Deal Reporter said on July 30, that Yahoo (NASDAQ: YHOO), Apple (NASDAQ: AAPL), Microsoft (NASDAQ: MSFT) and Hewlett-Packard (NYSE: HPQ) were looking at Shutterfly as a potential takeover target.
Shutterfly closed Thursday at $49.67, a gain of more than 4%.
Coca-Cola Acquires 16.7% Equity Stake in Monster Beverage for $2.15B
The Deal:
The Coca-Cola Company (NYSE: KO) and Monster Beverage (NASDAQ: MNST) announced Thursday that they have entered into agreements for a long-term strategic partnership, under which Coca-Cola will acquire an approximately 16.7% stake in Monster for $2.15 billion. Coke will have two directors on Monster's Board and will become Monster's preferred distribution partner globally.
The deal is expected to close in late 2014 or early 2015.
Benzinga reported back in 2012, that Coca-Cola might be planning a takeover of the energy drink company.
Monster Beverage closed Thursday at $71.65, and traded as high as $97.48 after-hours on the news. Coca-Cola ended the regular session at $40.18 and traded as high as $40.82 after-hours.
View Comments and Join the Discussion!
Posted-In: M&A News Rumors Management Insider Trades Movers