Benzinga's Weekend M&A Chatter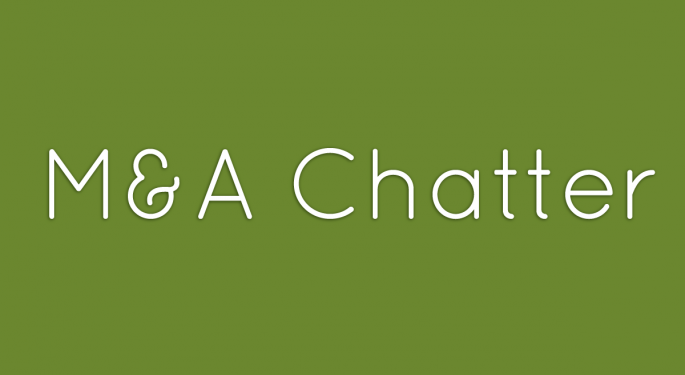 The following are the M&A deals, rumors and chatter circulating on Wall Street for Friday July 25 through Sunday July 27, 2014
Destination Maternity Withdraws Proposal to Combine With Mothercare
The Withdrawn Proposal:
Destination Maternity (NASDAQ: DEST) announced Friday, that it is withdrawing its proposal, announced July 2, to combine with Mothercare (OTC: MHCRF). Destination Maternity's financial advice discussed the potential merger with Mothercare shareholders, who believe that only a very significant increase in the value of such proposal would be acceptable. In addition, Destination Maternity has not been permitted by the Mothercare Board to conduct due diligence.
The July announcement was required by the UK Takeover Code, due to press speculation regarding Destination Maternity's interest in a possible combination with Mothercare.
Destination Maternity shares closed Friday at $22.62, a loss of 1.5%.
Apple Acquires BookLamp Reportedly for $10M-$15M
The Deal:
Apple (NASDAQ: AAPL) confirmed to TechCrunch Saturday, that it has acquired startup BookLamp. The price paid by Apple was reportedly between $10-$15 million.
BookLamp's Book Genome Project lets users find suggestions for books to read based on natural language analysis of other titles. The purchase was made to boost Apple's e-books effort and "beat Amazon at its own game."
Apple shares closed Friday at $97.67, a gain of $0.64.
TripAdvisor to Acquire Viator for ~$200M
The Deal:
TripAdvisor announced Friday, an agreement to acquire travel research and review site, Viator, for approximately $200 million, payable substantially in cash. The deal is expected to close in Q3 of 2014.
TripAdvisor shares closed Friday at $99.88, a loss of almost 2%.
Danone in Talks to Sell Medical Nutrition Unit to Hospira for ~$5B
The Rumor:
France's Danone (OTC: DANOY), maker of Dannon Yogurt, is in talks to sell its medical nutrition business to Hospira (NYSE: HSP), according to Financial Times. Sources say a deal, which would allow Hospira to move its tax base to Europe, would value Danone's medical nutrition business at approximately $5 billion.
Hospira shares closed Friday at $51.72, a loss of $0.10.
21st Century Fox to Combine European Satellite Television Holdings for Approximately $9.3B
The Deal:
21st Century Fox (NASDAQ: FOXA) announced Friday, that it will transfer Sky Italia and its 57.4 percent interest in Sky Deutschland to BSkyB to create a pan-European digital television leader through the combination of these assets. Fox will receive approximately $9.3 billion in value from BSkyB comprised of approximately $8.6 billion in cash and BSkyB's 21 percent interest in National Geographic Channels International, raising 21st Century Fox's ownership stake to 73 percent. 21st Century Fox will also participate in BSkyB's announced equity offering by purchasing approximately $900 million of additional shares in BSkyB to maintain the Company's 39.1 percent ownership interest.
Twenty-First Century Fox shares closed Friday at $51.72, a loss of $0.10.
View Comments and Join the Discussion!