Benzinga's M&A Chatter for Wednesday July 23, 2014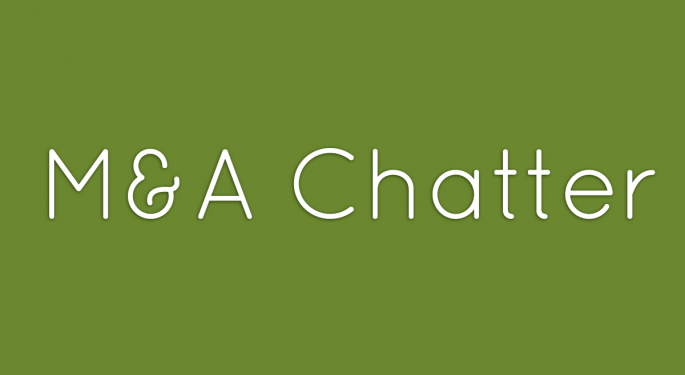 The following are the M&A deals, rumors and chatter circulating on Wall Street for Wednesday July 23, 2014:
Gas Natural Tells Algonquin the Company is 'Not for Sale'
The Deal:
Algonquin Power & Utilities (OTC: AQUNF) announced Wednesday, that it sent a letter to the Gas Natural (NYSE: EGAS) Board of Directors, urging shareholders to insist on a sale of the company. Algonquin said, over the past seven months, the company has sent three letters and reached out numerous times, to discuss a potential acquisition of Gas Natural, by subsidiary Liberty Utilities.
Liberty's most recent offer to Gas Natural was $13.00 per share on May 7, 2014. Gas Natural's response was that the company is "Not for Sale" and refused to discuss the proposed transaction.
Gas Natural shares closed Wednesday at $12.68, a gain of almost 2%.
Talisman Confirms Approach by Repsol
The Deal:
Shares of Talisman Energy (NYSE: TLM) spiked higher Wednesday, ahead of a press release confirming they have been approached by Spain's Repsol (OTC: REPYY), "with regards to various transactions." Bloomberg reported Tuesday that Repsol might explore a bid for the Canadian oil and gas company. Repsol also confirmed Wednesday, that the two companies had discussed potential transactions and that Talisman was among potential buyout targets.
Talisman Energy closed Wednesday at $11.17, a gain of more than 13%.
Yahoo Shares Surge on Forbes Report on Potential Takeover
The Rumor:
Shares of Yahoo (NASDAQ: YHOO) spiked higher Wednesday, on a report from Forbes, that it could be a takeover target for Alibaba (NYSE: BABA) or Softbank (OTC: SFTBY). The article's author, Eric Jackson, who is long Yahoo, said a large shareholder was preparing a presentation mentioning why such an acquisition would be attractive.
Yahoo shares closed Wednesday at $34.71, a gain of more than 3%.
Ariad Shares Move on Fake Twitter Post
The Rumor:
Shares of Ariad Pharmaceuticals (NASDAQ: ARIA) surged higher Wednesday, apparently on a fake Twitter account, claiming to be a Deutsche Bank trader. The fake tweets mentioned Shire (NASDAQ: SHPG) would be announcing a deal with Ariad on Thursday.
Benzinga's requests for a comment from Ariad were not immediately answered.
Ariad Pharmaceuticals closed Wednesday at $5.88, a gain of 15%. Ariad rose another 7% after-hours.
View Comments and Join the Discussion!