6 Best Used Cars For Your Teenager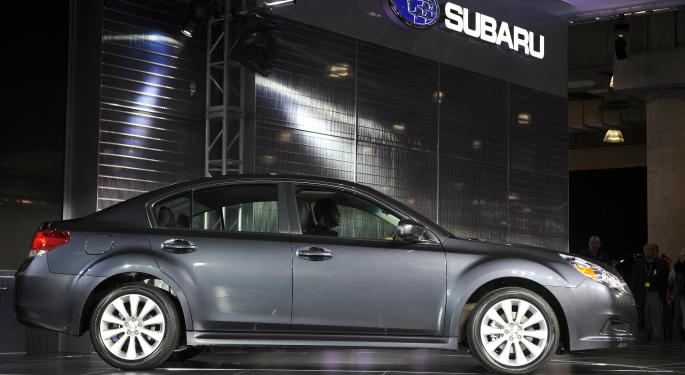 When parents are buying a vehicle for their children, there seems to be three key categories taken into account: price, safety and durability.
Fortunately, the Insurance Institute for Highway Safety (IIHS) issues a list of its top safety picks each year. Not every family, however, can afford to buy their new driver a new car.
The IIHS on Wednesday released its first-ever list of top safety picks among used vehicles. The list is made up of SUVs, minivans, and mid- to large-size cars.
Related Link: Why Tesla's $35,000 Model 3 Won't Be A Hit
Mini and small cars were not included on the list, as the cars are seen to be less safe in the instance of a crash. Additionally, only models from 2005 or later were included, because prior models typically do not have the same safety features as their newer counterparts.
Safety, however, is only one component of a parent's choice and is likely limited by their budget. In a survey of 500 parents, the IIHS found the mean purchase price for a teen's vehicle to be $9,800 with a median of $5,300.
The IIHS list was broken into two categories: best choices and good choices. The starting price for best choices and good choices are $4,000 and $7,300, respectively, and cap out at $20,000.
Prices were based on the Kelley Blue Book value for vehicles in good condition, typical mileage and private party purchase in Arlington, Virginia.
For parents limited by their pocket book, durability is another key factor in determining which vehicle they pick for their teen. iSeeCars.com, a used-car aggregating site with more than 30 million listings, recently published a list of vehicles that have the highest percent of listings with more than 200,000 miles. The list contained models from 1981 to 2010 and was dominated by trucks and SUVs. Of the top 20 vehicles on the list, only three: the Honda Accord, Subaru Legacy and Toyota (NYSE: TM) Avalon -- were cars.
Upon cross-checking the IHSS lists with the iSeeCars.com list, the top three cars for both best and good choices ranked by price are: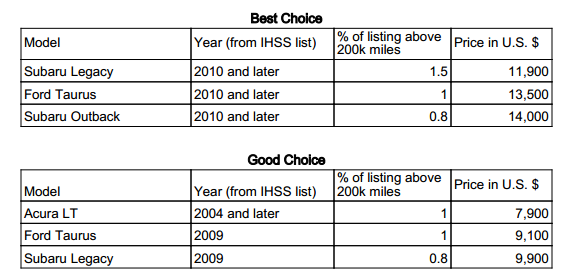 Posted-In: Insurance Institute for Highway Safety iSeeCars.com Kelley Blue BookTopics Economics Personal Finance General Best of Benzinga
View Comments and Join the Discussion!