5 Companies Proudly Based In Detroit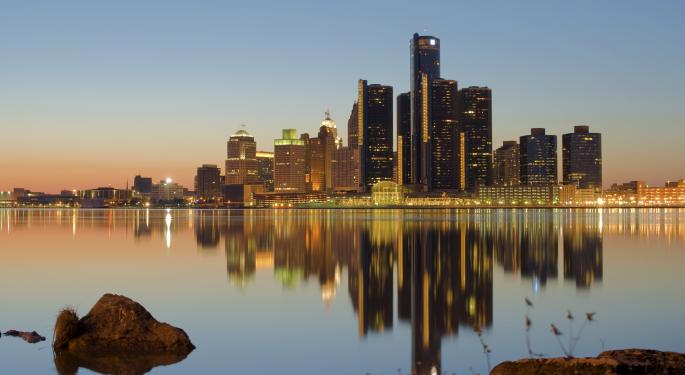 Ten years ago, no company would have promoted its products by associating them with Detroit -- a city where the population decreased by more than half in just over 50 years.
While the city used to be associated with themes of decline and decay, a new Detroit emerging from bankruptcy is resembling a phoenix-from-the-ashes story. Five companies are latching on to it.
Valentine Distilling
Valentine was the first micro distillery in the Detroit area since prohibition, and founder Rifino Valentine is proud of it. The former Wall Street trader is from Northern Michigan, but decided to open his business in Detroit because of its history as the former manufacturing capital of the world.
The city's brand is even reflected in the logo, which features a pin-up girl (an homage to the height of Motor City manufacturing) and says "Detroit."
Related Link: How One Former Wall Street Trader Is Changing U.S. Manufacturing...With Vodka
In the few years since starting the distillery, Valentine produced a number of award-winning spirits. The Tasting Panel gave Valentine Vodka a 94-point ranking, placing it above popular international brands like Belvedere, Ketel One, Grey Goose and Absolut. Valentine's Liberator Old Tom Gin was named the world's best cask gin by the World Gin Awards in London earlier this year.
Homes Eyewear
Homes Eyewear creates hand-designed and hand-crafted wooden sunglasses out of new and reclaimed wood from abandoned homes in Detroit. Founder Achille Bianchi was born in the city, and now both lives and works there.
Related Link: How One Entrepreneur Reuses Detroit's Devastated Homes
Bianchi gets his reused wood through Reclaim Detroit, a nonprofit that deconstructs old Detroit homes and then sorts, catalogues and sells the salvaged pieces. Instead of joining the hordes of illegal scrappers, he goes through an organization that both treats its workers well and contributes to the city.
Chrysler
While it may seem like only smaller, hyper local companies are sporting the Detroit brand, big corporations are latching on to it as well. Chrysler's "Imported from Detroit" campaign produced what is arguable the most memorable Super Bowl commercial to come out of the past few years.
The commercial shows iconic Detroit settings, like the downtown skyline, Joe Louis fist, Diego Rivera's Detroit Industry murals, Campus Martius Park and the Fox Theatre. Of course, it also has Detroit's own hometown hero Eminem driving a Chrysler 300 to the riff of one of his most recognized songs.
Motor City Brewing Works
This year, Motor City Brewing Works is celebrating its twentieth anniversary of brewing its unfiltered, unpasteurized (and did we mention delicious?) beer. This micro brewery benefits from the city's fresh water that comes directly from the Great Lakes. The cleanliness and purity of the water contributes to the flavor of the beer.
Related Link: Craft Beer Market Continue To Grow
And with brews featuring names like Ghettoblaster, Motown Bohemian Lager and Old Gear Oil, no other food or beverage maker is capturing the essence that is both old and new Detroit quite like this one.
Shinola
There was no way to make this list without including Shinola. The maker of watches, bicycles and leather goods also promotes the idea of bringing manufacturing to Detroit. Shinola operates out of a 30,000 square-foot facility in Techtown, one of many innovation hubs in the Motor City.
Related Link: What Does Your Shinola Watch Say About You?
In addition to producing consumer goods, Shinola even installed several vintage-style clocks around the city of Detroit earlier this year.
Posted-In: Achille Bianchi Beer Chryslers craft beer DetroitTopics Top Stories General Best of Benzinga
View Comments and Join the Discussion!