ADP Says Private Sector Job Growth Surged In June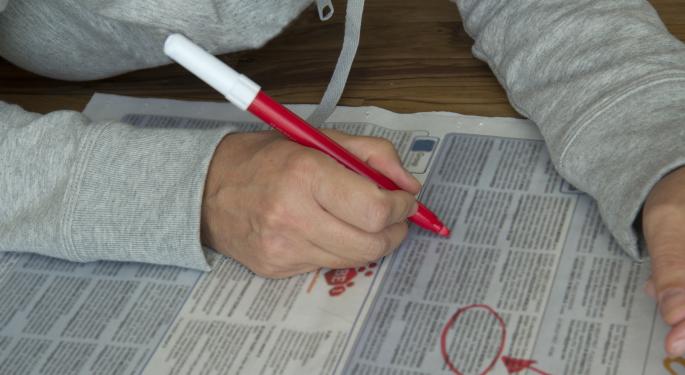 ADP reported that the private sector job market improved strongly during the month of June.
The report shows that private sector jobs surged by 281K jobs during the month, which was well above the consensus expectations for a gain of 206K as well as the data seen in the last five months.
Last month's total was unrevised at 179K (Apr: 205K, Mar: 209K, Feb: 178K, Jan: 127K, Dec: 227K).
"The June jobs number is a welcome boost," said Carlos Rodriguez, president and chief executive officer of ADP. "The number of construction jobs added was particularly encouraging, representing the highest total in that industry since February of 2006."
Mark Zandi, chief economist of Moody's Analytics, said, "The job market is steadily improving. Job gains are broad based across all industries and company sizes. Judging from the job market, the economic recovery remains fully intact and is gaining momentum."
Related Link: Is Investor Sentiment Flashing A Warning?
According to the report, "payroll growth for businesses with 49 or fewer employees increased by 117,000 jobs in June. That's up from 82,000 in May and represents the highest number since February 2012. Job growth rebounded over the month for medium-sized and large firms. Employment among medium-sized companies with 50-499 employees rose by 115,000, up from 62,000 in May. Employment at large companies — those with 500 or more employees — increased by 49,000, up from 36,000 the previous month. Companies with 500-999 employees added 16,000 jobs after shedding 3,000 in May."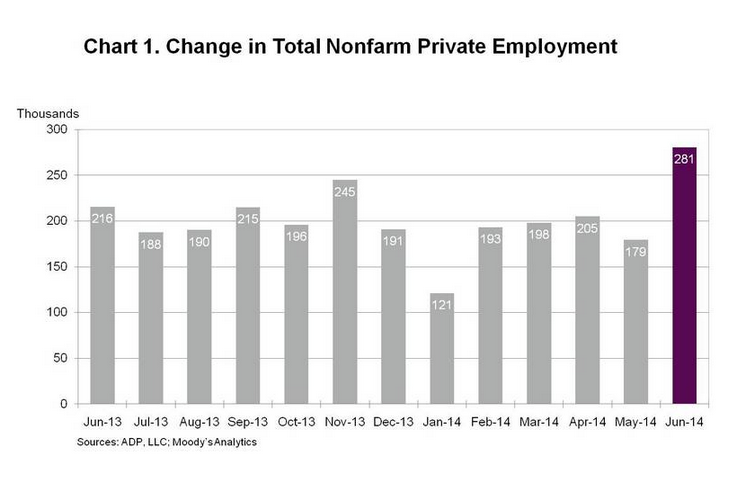 As a reminder, the ADP report does not include jobs in the government sector.
The report, which is produced by ADP, a leading provider of human capital management solutions, in collaboration with Moody's Analytics, is derived from ADP's actual payroll data and measures the change in total nonfarm private employment each month on a seasonally-adjusted basis.
Tags: ADP Carlos Rodriguez jobs Mark Zandi
Posted in: News Econ #s Economics Pre-Market Outlook Best of Benzinga