3 Ways Robots Will Benefit Mass Journalism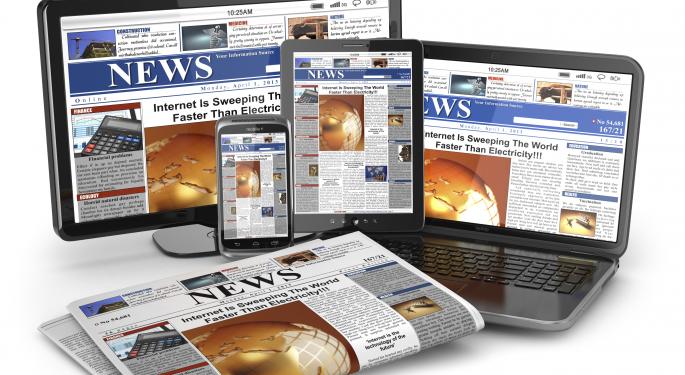 The Associated Press made a historic announcement this week that it would be using automation technology to write company earnings reports.
Many are asserting that this decision indicates that another middle-class job is being replaced by technology, that writers will soon be taken out of the news process, or robots are taking over journalism entirely.
And it's not just writers asserting these ideas.
"This is the beginning of the end for typical, human journalism, as we've known it," Institute for Ethics and Emerging Technologies and R&D engineer Marshall Barnes told Benzinga.
"Right now, it's earnings reports, next it'll be City Hall," he said.
Related Link: AP Using Robots For Journalism Starting In July
But what a lot of the hype misses are the ways that automation can't replace human journalism. This isn't a case of "The Great Automatic Grammatizator," where a machine can write a prize-winning novel after simply learning the rules of grammar.
The difference between a robot-generated earnings report in Forbes and deep, analytical pieces by journalists at news outlets like TIME, The Atlantic and The New York Times is distinct and unmistakable.
"A majority of journalism is safely entrenched in humanized stories that can make a connection to their reader," Reicura PR architect Farrah Sinclair told Benzinga.
In addition to not being able to replace human reporters, there are a number of ways in which robots will be beneficial in journalism.
Increased Speed
In a company blog post, Associated Press Managing Editor Lou Ferrara said that the AP will be able to produce 4,400 automation-generated earnings reports each quarter. That's more than 14 times the 300 quarterly earnings articles that human reporters are currently producing.
To create the automated stories, the AP will partner up with North Carolina-based Automation Insights which will use data from Zacks Investment Research.
Automated Insights spokesperson James Kotecki told Benzinga that the company has produced more than 1,500 in-depth reports per second for Yahoo (NASDAQ: YHOO) Fantasy Football. Last year alone, Automated Insights produced 300 million articles, Kotecki said, and it's on track to produce more than a billion in 2014.
"Any given article takes a small fraction of a second," he said.
What this means is that news organizations will be able to produce content at incredible speeds, only increasing the amount of information available.
Better Accuracy
In addition to removing human error in the initial stage of creating the reports, freeing up journalist's time from gathering the data gives them more time to fact-check and edit.
"The copy is always going to have to be edited," said Arment Dietrich media director Mary Anne Keane, who has more than 20 years of experience as a communications professional. She said the algorithm can provide content quicker, but it's still going to have to be worked on by somebody.
This isn't the first instance of a major news organization using automation technology to create data-driven pieces, either. Earlier this year, the first reports of an earthquake in California came from a computer-generated article published by the Los Angeles Times. The reports was short, factual and a mere 105 words.
But Slate.com reported that less than six hours later, that robot-written article had been updated 71 times by human writers and editors to create an approximately 1,500-word, in-depth piece.
Related Link: 3 Ways Google Glass Could Change Journalism
Higher Quality
Most importantly, the quantity of content a robot can produce can't compete with the quality of content that a human can create.
Bruce Mirken, media relations director for the Greenlining Institute, worked as a journalist for more than a dozen years before transitioning to media relations in the nonprofit sector. He told Benzinga that even something as simple and data-driven as corporate earnings reports can contain important information buried in fine print or footnotes that a robot can't detect.
"There may be a viable role for automated reports of certain types of basic facts, but you'll always need thoughtful, determined human beings to burrow under the surface and see what's really going on that folks involved -- be they companies, politicians or whomever -- would rather have people not know, and to add context and depth," he said.
And that's exactly what Ferrara said using the automation technology will allow.
"Our journalists will focus on reporting and writing stories about what the numbers mean and what gets said in earnings calls on the day of the release, identifying trends and finding exclusive stories we can publish at the time of the earnings reports," he said.
Without the burden of writing short, formulaic earnings articles, journalists can do what they're trained to -- question, investigate, analyze and contextualize.
Posted-In: Associated Press Automated Insights Automation Bruce MirkenTopics Top Stories Tech General Best of Benzinga
View Comments and Join the Discussion!