Benzinga's M&A Chatter for Thursday June 26, 2014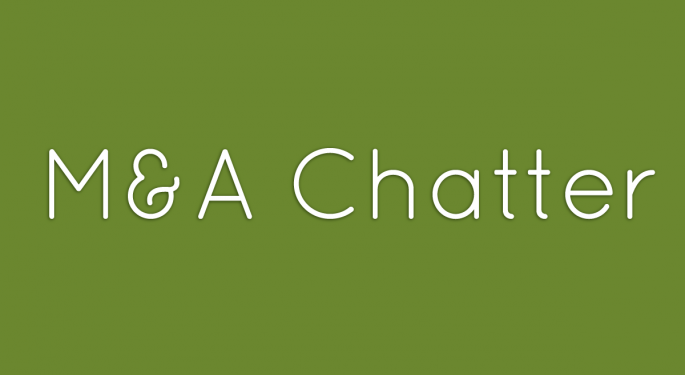 The following are the M&A deals, rumors and chatter circulating on Wall Street for Thursday June 26, 2014:
Auxilium Pharmaceuticals to Merge with QLT
The Deal:
Auxilium Pharmaceuticals (NASDAQ: AUXL) and Canadian biotechnology company QLT (NASDAQ: QLTI), announced Thursday, a deal under which Auxilium plans to merge with QLT. Under the terms of the agreement, a wholly-owned subsidiary of QLT will be merged with and into Auxilium. Current Auxilium shareholders will receive 3.1359 QLT shares for each Auxilium share, subject to certain adjustments.
Upon completion, Auxilium shareholders will own approximately 76% of the combined entity, while QLT shareholders will own approximately 24%.The deal is expected to close in Q4 2014.
Auxilium Pharmaceuticals closed Thursday at $20.69, a loss of 2.5%, while QLT gained 14.5%, to close at $6.19.
Alcoa Announces Acquisition of Firth Rixon for $2.85B
The Deal:
Alcoa (NYSE: AA) announced Thursday, it has signed a definitive agreement to acquire aerospace jet engine components maker, Firth Rixson, from Oak Hill Capital Partners, for $2.85 billion in cash and stock. The deal is expected to close by the end of 2014.
Alcoa closed Thursday at $14.94, a gain of 2.5%.
Fosun Pharma to Acquire 15% Stake of Nature's Sunshine to Enter Chinese Market
The Deal:
Nature's Sunshine Products (NASDAQ: NATR) and Shanghai Fosun Pharmaceutical (OTC: FOSUF), announced Thursday, the formation of a China joint venture to market and distribute Nature's Sunshine and Synergy products in China, plus an investment by Fosun of approximately $46.3 million in Nature's Sunshine common stock to be issued pursuant to a private placement transaction. Nature's Sunshine will pay a special one-time cash dividend of $1.50 per share, contingent upon the deal closing.
The joint venture and private placement transactions are expected to close in Q3 of 2014.
Nature's Sunshine Products closed Thursday at $16.71, a gain of 6.5%.
Kirkland May be PE Target
The Rumor:
Shares of Kirkland's (NASDAQ: AGN) spiked higher Thursday, on a report from The Deal that the company could be a target of private equity, according to sources. Kirkland had previously been owned by private equity and is said to be open to a potential deal.
Kirkland's closed Thursday at $17.69, a gain of 1%.
View Comments and Join the Discussion!