Benzinga's Weekend M&A Chatter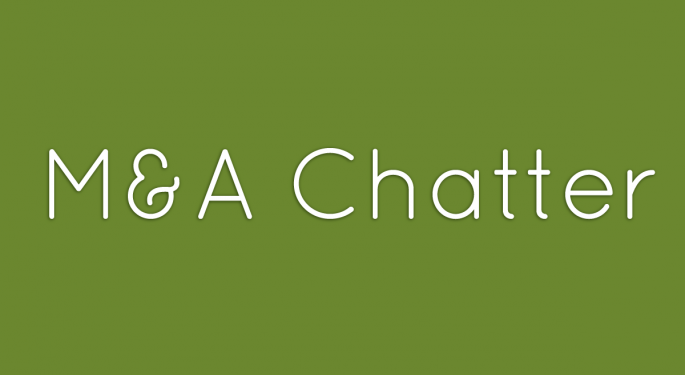 The following are the M&A deals, rumors and chatter circulating on Wall Street for Friday June 13 through Sunday June 15, 2014:
Medtronic, Covidien Said to be Close to Merger Deal
The Rumor:
Medtronic (NYSE: MDT) is in talks to acquire rival medical device company Covidien, in a deal that could be worth more than $40B, according to a report from the Wall Street Journal on Saturday. The deal could be announced on Monday, according to sources.
Covdien shares closed Friday at $72.02, and a deal at $40 billion would put the share price at approximately $90.00. Medtronic, which closed at $60.70 on Friday, has also been reported to be in talks to acquire Smith & Nephew, which ended the week at $91.41.
UPDATE: Medtronic confirmed deal to acquire Covidien for $42.9B in cash and stock ($93.22/share).
Priceline to Acquire OpenTable for $103/Share
The Deal:
Priceline (NASDAQ: PCLN) and OpenTable (NASDAQ: OPEN) announced Friday that Priceline will acquire the online restaurant reservation site for $103 per share in cash, in a transaction valued at $2.6 billion. The deal will involve a tender offer and is expected to close in Q3 of 2014.
OpenTable closed Friday at $104.48, a gain of 48%. Priceline lost 3%, to close at $1,189.30
Pilgrim's Pride May Look to Acquire Other Processed-Meat Brands
The CEO Comments::
Pligrim's Pride (NYSE: PPC) CEO Bill Lovette said Friday, his company remains interested in acquisitions, following Tyson's (NYSE: TSN) victory in the bidding war for Hillshire Brands (NYSE: HSH). Tyson's $63 per share bid surpassed PPC's highest offer of $55.
Shares of Pinnacle Foods (NYSE: PF) moved higher on Friday, following Lovette's comments. Hillshire had agreed to acquire Pinnacle Foods, but terminating that deal was a stipulation of the proposals from both Tyson and PPC.
Pligrim's Pride closed Friday at $24.41, a loss of 1%, while Pinnacle Foods gained 3% to close at $33.04.
Williams to Acquire Global Infrastructure Partners' GP and LP Interests in Access Midstream Partners for $5.995B
The Deal:
Williams (NYSE: WMB) announced Sunday, that it has agreed to acquire the 50% general partner interest and 55.1 million limited partner units in Access Midstream Partners (NYSE: ACMP) held by Global Infrastructure Partners II for $5.995 billion in cash. Upon closing, expected in Q3 2014, Williams will own 100% of the general partner and 50% of the limited partner interests in Access Midstream Partners.
Williams proposed to merge Williams Partners L.P. into Access Midstream Partners. Williams plans to increase its Q3 2014 dividend, after the closing of the acquisition, by 32% to $0.56 per share.
Williams closed Friday at $47.18, a gain of $0.33, while Access Midstream Partners gained $1.47 to close at $65.36.
Posted-In: News Rumors Management M&A Movers
View Comments and Join the Discussion!