Do Minimum Wage Hikes Always Lead To Higher Prices?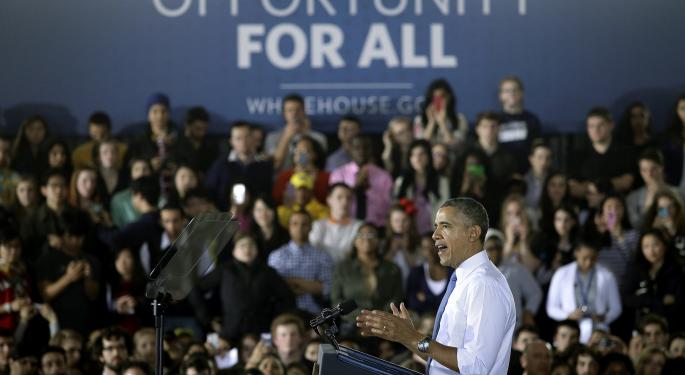 Does a higher minimum wage necessarily mean higher prices for businesses and, by passing those prices along, consumers?
The controversy over income inequality and the U.S. minimum wage has been percolating for some time now. And while the Obama Administration has been pushing for a federal minimum wage increase, the Congressional Budget Office earlier this year warned such a wage hike might increase overall family income but would result in fewer jobs.
Recent research by the business information firm IBISWorld, however, suggests that only some industries are vulnerable to having their bottom lines adversely affected by minimum wage hikes.
Related: Survey: Small Businesses Thrive When Regulatory, Tax Filings Are Easy
The firm quoted an academic study, released in the early 1980s, that reported a 10 percent increase in the minimum wage tends to raise inflation by just 0.02 percentage points.
It also pointed to Bureau of Labor Statistics data from last year, that found only 2.6 percent of U.S. workers earned minimum wage in 2013 – and that at least 20 states, plus the District of Columbia, currently have minimum wages above the federal level of $7.25 per hour.
In addition, according to IBISWorld, "goods and services that rely on minimum-wage workers account for only a small portion of consumer and procurement department budgets."
The business sectors that do end up being affected, however, are those that employ low-wage workers and have labor-intensive operations – industries such as cleaning, hospitality, security guard and food services.
Those industries, according to a 2009 London School of Economics and Political Science study, are all "relatively insensitive" to market price shifts. They also face little to no competition from imports – and cannot easily adjust their productivity to offset the cost of higher wages.
Letter and parcel delivery services, such as UPS (NYSE: UPS), FedEx (NYSE: FDX) and the U.S. Postal Service, are also expected to raise prices along with any minimum wage hikes. But IBISWorld says those companies "often preserve pay differentials when the minimum wage rises."
And prices, it adds, tend to go up gradually after a new wage hike is introduced; with those price increases, in some cases, taking up to four years to be implemented after a minimum wage rise is announced.
View Comments and Join the Discussion!
Posted-In: Bureau of Labor Statistics Congressional Budget Office IBISWorld income inequality minimum wage pay wage scaleEconomics General Best of Benzinga