Benzinga's Weekend M&A Chatter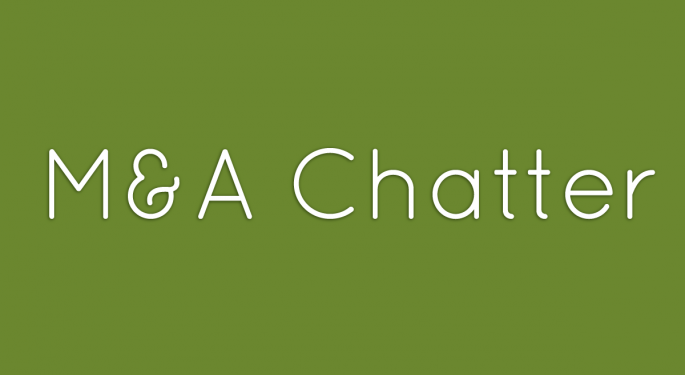 The following are the M&A deals, rumors and chatter circulating on Wall Street for Friday June 6 to Sunday June 8, 2014:
Apple Acquires Spotsetter
The Rumor:
Apple (NASDAQ: AAPL) has acquired social search engine Spotsetter, according to a report Friday from . Terms were not disclosed. Spotsetter announced last week on their blog that the app was shutting down.
Co-founders, Stephen Tse and Johnny Lee announced the move to Apple on their LinkedIn page.
Apple closed Friday at $645.57, a loss of $1.78.
NY Post Reports Google Could Offer $15M for Songza
The Rumor:
Google (NASDAQ: GOOG) may be looking at acquiring music streaming service Songza for about $15 million, according to a report from the NY Post on Friday.
Sonza has 5.5 million users, versus Spotify with 24 million and Pandora with 77 million.
Google closed Friday at $556.33, a gain of $2.43.
Men's Wearhouse Extends $65/Share All-Cash Tender Offer Jos. A. Bank
The Tender Offer:
Men's Wearhouse (NYSE: MW) announced Friday it has extended its all-cash tender offer of $65.00 per share for all of the outstanding shares of common stock of Jos. A. Bank (NASDAQ: JOSB) to 5:00 PM ET on June 19, 2014. The previous deadline was June 5, 2014.
Men's Wearhouse also announced that its Board has amended and restated the Company's bylaws to modify the voting standard required for shareholders to amend the Company's bylaws from 66-2/3% to a majority of Men's Wearhouse's outstanding voting stock.
Men's Wearhouse closed Friday at $54.25, a gain of 5.5%, Jos A. Bank closed at $64.97, a gain of $0.04.
View Comments and Join the Discussion!