Benzinga's M&A Chatter for Wednesday June 4, 2014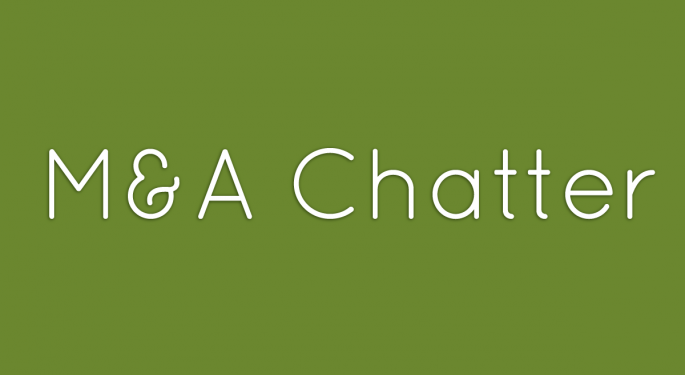 The following are the M&A deals, rumors and chatter circulating on Wall Street for Wednesday June 4, 2014:
Tyson Enters Bridge Facility Agreement for Potential Hillshire Bid
The Bridge Facility:
Shares of Hillshire Brands (NYSE: HSH) rose Wednesday morning on an 8-K filing from Tyson Foods (NYSE: TSN), which indicated that Tyson entered into a letter of commitment pursuant to which Morgan Stanley Senior Funding committed to provide a 364-day senior unsecured bridge credit facility in an aggregate principal amount of $6.75 billion and a 364-day senior unsecured backstop revolving credit facility in an aggregate principal amount of $1 billion. The Bridge Facility is intended to finance Tyson's potential acquisition of Hillshire.
Pilgrim's Pride (NYSE: PPC) submitted a revised proposal of $55.00 per share for Hillshire on June 1, $5.00 per share more than Tyson's $50.00 per share bid of May 29. Hillshire announced Tuesday that its Board of Directors agreed to conduct separate discussions with Pilgrim's Pride and Tyson regarding their proposals.
Hillshire Brands shares gained another 1% Wednesday, to close at $59.24, while Tyson lost 1.5% to close at $41.43.
Dai-ichi Life to Acquire Protective Life for $70.00/Share in Cash
The Deal:
Shares of Protective Life (NYSE: PL) rose 18% Wednesday, following Tuesday's announcement it would be acquired by Dai-ichi Life (OTC: DCNSF) for $70 per share in cash. Late Tuesday, the company's announced the deal with a total transaction value of approximately $5.7 billion.
Protective Life closed Wednesday at $69.36, a gain of 18%.
Sprint, T-Mobile Reportedly Near Agreement on Price, Termination Fee
The Rumor:
Shares of Sprint (NYSE: S) and T-Mobile (NYSE: TMUS) rose after-hours Wednesday, on a report from Bloombergthat the two companies were closed to agreeing on the price, terms and break-up fee for a takeover of T-Mobile by Sprint, according to sources. The deal reportedly is $40 per T-Mobile share, consisting of 50% cash and 50% in Sprint stock.
Sprint closed Wednesday at $9.40 and traded as high as $9.85 after-hours. T-Mobile, gained $0.08 to close at $34.28 and traded as high as $36.50 after-hours.
Medtronic Evaluating Takeover Bid for Smith & Nephew
The Rumor::
Shares of Medtronic (NYSE: MDT) and Smith & Nephew (NYSE: SNN) surged higher Wednesday on a report from Bloomberg that Medical was considering a potential takeover of Smith & Nephew. Stryker (NYSE: SYK) was mentioned as a potential suitor for S&N last week by Financial Times.
Share of Medtronic, closed Wednesday at $63.22, a gain of 3.5%, while Smith & Nephew shares closed up 12% at $97.27. Shares of Stryker, Zimmer Holdings (NYSE: ZMH), St Jude Medical (NYSE: STJ) and Becton Dickinson (NYSE: BDX) also closed higher on the report.
View Comments and Join the Discussion!