Apple Makes Monumental Beats Announcement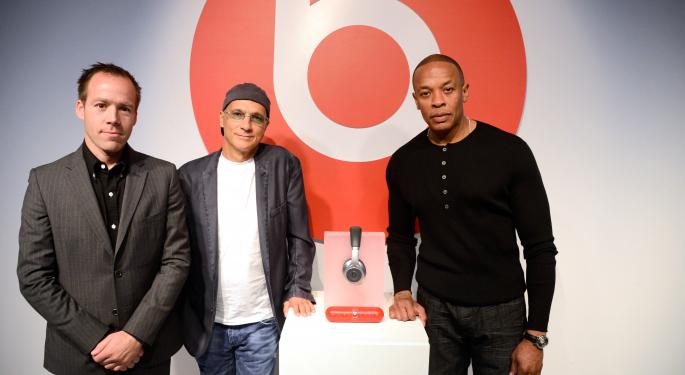 It's official. Apple (NASDAQ: AAPL) announced that it will be buying Beats Electronics and Beats Music for $3 billion, making it the largest acquisition in the company's history.
Perhaps more important than the $3 billion price tag is the announcement that Dr. Dre and Jimmy Iovine will be joining Apple.
Many have been speculating that Apple wants to launch its own recording company, making it the first fully-digital music producer. This would have the effect of significantly boosting iTunes sales and more importantly, margins.
Iovine commented, "The idea when we started the company was inspired by Apple's unmatched ability to marry culture and technology. Apple's deep commitment to music fans, artists, songwriters and the music industry is something special."
Related: Two Analysts Move  Apple With Price Target Changes
Acting as an incentive, $400 million of the $3 billion deal (13.33 percent) will be paid in Apple equity, although Apple has plenty of dry powder on the balance sheet.
Apple will also be taking over Beats Music, a streaming service similar to Pandora (NYSE: P) and Spotify. As more listeners opt to stream music rather than download it, this acquisition will give Apple access to a channel it has not had much success in. Apple launched iTunes Radio on September 18, 2013, but the service never gained much traction.
Others speculate the acquisition may be taking place to give Apple a younger appeal, a market it has been giving up to Google's Android.
Apple CEO Tim Cook commented, "Music is such an important part of all of our lives and holds a special place within our hearts at Apple. That's why we have kept investing in music and are bringing together these extraordinary teams so we can continue to create the most innovative music products and services in the world."
Shares of Apple are not moving on the news, perhaps because the story was broken several weeks ago. Apple was last trading at $624.35, up 0.05 percent in after-hours trading.
Posted-In: Beats Beats Electronics Dr. Dre Google Jimmy IovineM&A News Hot Best of Benzinga
View Comments and Join the Discussion!