JC Parets Of Eagle Bay Capital Talks Momentum Stocks & Why A Market Correction Is Already Underway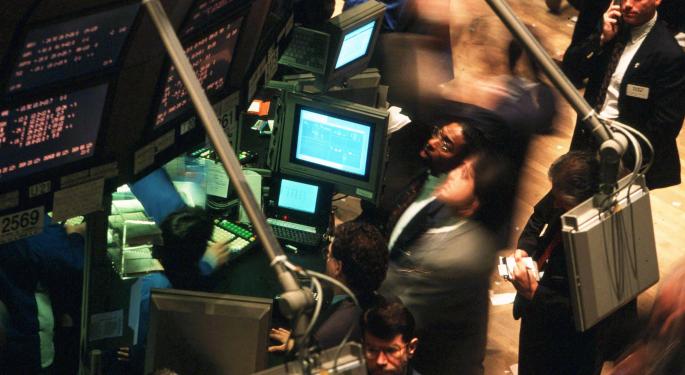 JC Parets is the founder and president of Eagle Bay Capital and holds the Chartered Market Technician designation (CMT) and is the New York City Chapter Chair of the Market Technicians Association.
Parets is a regular guest on many news outlets and dropped by for a chat on Benzinga's #Premarket Prep on May 20 to chat about momentum stocks and why the markets are due for a correction.
Parets, a staunch bear, noted that the markets are skewed towards a risk reward profile that heavily favors the bears.
"We came in to the year with the thought process of a risk versus reward in the stock market, which is in favor of the bears," Parets said. "The little bit of potential gain we can see here is not really worth the risk."
Where the money flows...
Parets follows the bond market and explained how money is flowing towards Treasury bonds at a faster rate than money is flowing in to high-yield bonds. According to Parets, that is in indication of an upcoming market sell-off.
Parets also explained how the major indices such as the Nasdaq-100 or Dow Jones are outperforming small cap indices such as the Russell 2000. For a sustained long-term bull run, the opposite should occur, according to Parets.
Parets continues to argue that investor can't just look at one or two indices and conclude from that the market is in good shape.
While the major indices continue to move higher, many "momentum" names that have dominated headlines over the past year are now trading significantly lower.
"I'm not a 'why' guy," Perets said when asked why he believes the markets are heading lower. "We don't get paid to know why. We get paid to know what, when, and how long. I think we are already in a correction. I think what we are seeing is money moving out of growth and in to value."
Pile on the bear bandwagon...
Adding to the bearish case is the fact that financials are under-performing since last summer. Names like Goldman Sachs (NYSE: GS) and Citigroup (NYSE: C) and other financials and discretionary companies make up a what Perets calls "early cycle sectors."
When Perets sees the "early cycle sector" underperforming, it is a clear bearish sign and a market correction is imminent.
Finally, Parets explained that from a historical perspective, when volatility was at historical all-time lows (as they are now), within three months, the volatility level has spiked higher by on average 21 percent.
As such, Parets said that he prefers the energy sector because the sector as a whole would see losses that are not as steep in a severe market downturn compared to other industries.
The Parets view on stocks...
Moving away from the general market, Parets shared his view on a few individual stocks.
First on the list, Boeing (NYSE: BA)
"Structurally, this stock has been an absolute beast," Parets argued. "We already took out the 2007 highs so it is definitely one of the stronger names in the Dow on an absolute and relative basis."
As such, Boeing belongs in the same camp or argument of an energy sector as the stock could see support above the $122 level in the event of a market down-turn.
Noble Corp (NYSE: NE) is a "mess" and a "disaster" looking at the weekly chart, according to Parets. The fact that the market continues to climb to new all time-highs while Noble continues to trade at multi-year lows.
However, Noble Corp presents an "ok" risk-reward profile for a trader looking to profit a few bucks from a potential bounce, according to Parets.
"There's worse risk-reward stocks out there, but this is one of the worst stocks out there in one of the best markets."
Moving on to something that Parets has been long, the conversation shifted to Apple (NASDAQ: AAPL) Parets likes the stock following the earnings report and said that prior to the recent earnings Apple was "dead money."
"We could see $700," said Parets who added that investors should only be long above the December highs of $575.
Twitter (NYSE: TWTR) is a name that has been grouped with Apple and other momentum stocks.
"I don't see a trade in Twitter," Parets argued. "I don't see momentum improving at all. I don't where I would put my stop.
If an investor has to be invested in Twitter, Parets sees only a $2 downside which is too much risk for Parets, but may suit the risk profile of someone else.
And forget the plethora of buy and sell-side analysts that upgraded shares in recent weeks. Parets sees no reason to pay attention to the "speculative" side of the market.
And what is a conversation on Twitter without mentioning Facebook (NASDAQ: FB)?
"There are two arguments for Facebook," Parets explained and noted that shares of Facebook could be setting itself up for a bearish move to the downside, or setting up to reach new all-time highs.
Momentum, on a short term frame favors the bears, Parets explained but added that a down-turn in shares is not necessarily set to occur.
Parets suggested that bulls should wait for a breakout above the $64 resistance before getting long while bears should wait for a break below the $57 level.
Until Facebook trades at either the $57 or $64 level, investors are simply "guessing" which direction shares will head in as shares are in the mid-point of both levels.
Check out the video below for a recap of JC Parets' interview on #PreMarket Prep:
Posted-In: Apple Boeing Citigroup DOW FacebookTop Stories Pre-Market Outlook Interview Best of Benzinga
View Comments and Join the Discussion!