A Marvel Of Online Marketing: Google's Doodles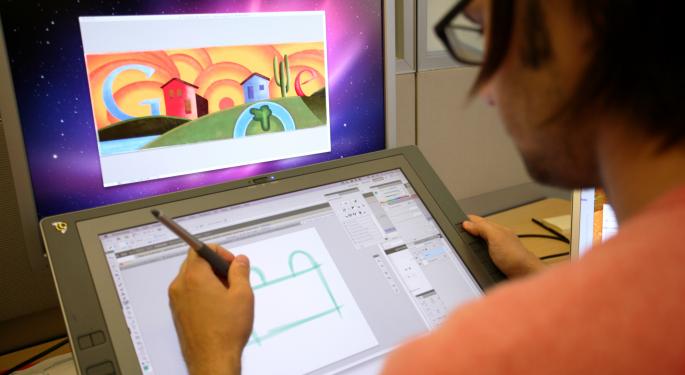 Anyone involved in the care and feeding of a website knows one of the best things your online site can have is "stickiness" – something that makes users want to stay there and linger for a while.
Stickiness is one of the metrics online advertisers use when they consider where to place their ads. The latest doodle by Google (NASDAQ: GOOG), an interactive 3-D Rubik's Cube, is a prime example.
Monday's Rubik's Cube on the Google main page was in honor of the puzzle's 40th anniversary, which became an international sensation in the 1980s and remains popular today.
Related: Google Celebrates Dorothy Hodgkin & Her Contributions To Chemistry
Google first began creating its doodles by playing around with its company logo in 1998. Since then, Google has created hundreds of doodles, often by substituting the Google letters with a variety of animated figures, video games and video vignettes.
This playful approach to celebrating events, such as important (or whimsical) anniversaries and birthdays, has also helped to pump up the website's traffic data from time to time.
Hundreds of thousands of young students, from Kindergarten through high school, also compete annually to have their own Google doodles appear on the site's home page. This year's winner, to be announced next month, will receive a $30,000 college scholarship and a $50,000 technology grant for his or her school.
Back in 2012 one Google doogle artist, Sophia Foster-Dimino, told Mashable that the popular Les Paul doodle – in honor of the pioneering guitarist's 96th birthday and allowed users to play and record melodies – accumulated an aggregate 5.1 years worth of music.
Some office managers, however, are probably not thrilled that Google has come up with yet another online toy for their workers to waste time on. In 2010, Google's interactive Pac-Man video game doodle reportedly wasted close to five million hours of estimated productivity.
View Comments and Join the Discussion!
Posted-In: branding Google Google Doodle marketing Online online entertainmentTech General Best of Benzinga