Benzinga's Weekend M&A Chatter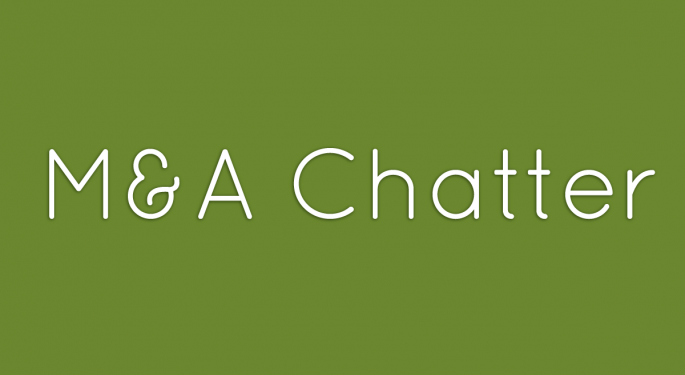 The following are the M&A deals, rumors and chatter circulating on Wall Street for Friday May 16 through Sunday May 18, 2014:
AT&T to Acquire DIRECTV for $95/Share in Cash, Stock Deal
The Deal:
AT&T (NYSE: T) and DIRECTV (NASDAQ: DTV) announced Sunday that they have reach an agreement under which AT&T will acquire DIRECTV in a stock-and-cash transaction for $95 per share based on AT&T's Friday closing price. Under the agreement, DIRECTV shareholders will receive $95.00 per share, comprised of $28.50 per share in cash and $66.50 per share in AT&T stock.
The agreement has been approved unanimously by the Boards of Directors of both companies and is expected to close within 12 months, subject to regulatory approvals. In order to facilitate regulatory approval, AT&T will divest its stake in America Movil (NYSE: AMX) (NASDAQ: AMOV).
DirecTV shares closed Friday at $86.18.
Pfizer Raises Offer for AstraZeneca to £55/Share
The Offer:
Pfizer (NYSE: PFE) announced on Sunday its final proposal of £55.00 ($92.48) per share to acquire AstraZeneca (NYSE: AZN), consisting of 1.747 shares in the combined entity and 2,476 pence in cash. Pfizer says it will not make a hostile offer directly to AstraZeneca shareholders and will only proceed with an offer with the recommendation of the board of directors of AstraZeneca.
AstraZeneca's Board has rejected previous offers from Pfizer of £53.50, £50 and £46.61 per share.
AstraZeneca shares closed Friday at $80.28.
Darden Sells Red Lobster to Golden Gate Capital for About $2.1B in Cash
The Deal:
Darden Restaurants (NYSE: DRI) announced Friday that it has agreed to sell its Red Lobster business and certain other related assets and assumed liabilities to Golden Gate Capital for $2.1 billion in cash. Darden expects to receive net cash proceeds, after tax and transaction costs, of approximately $1.6 billion, with approximately $1.0 billion used to retire outstanding debt. The remaining $500 million to $600 million will used as part of a new share buyback program of up to $700 million in FY2015.
Investor Starboard, who has tried to block the deal, says the Red Lobster sale woefully undervalues the iconic restaurant chain.
The deal is expected to close in Q1 of FY2015.
Darden Restaurants shares closed Friday at $48.49, a loss of more than 4%.
Abbott Acquires CFR Pharma for $2.9B Plus $430M in Assumed Debt
The Deal:
Abbott Laboratories (NYSE: ABT) announced Friday an agreement to acquire Latin American pharmaceutical company CFR Pharmaceuticals for approximately $2.9 billion, plus the assumption of net debt of approximately $430 million. Abbott is acquiring the holding company that indirectly owns approximately 73% of CFR Pharmaceuticals shares and will conduct a public cash tender offer for the remainder.
Abbott Laboratories closed Friday at $39.06, a loss of $0.18.
Rumor of Google $65.00/Share Bid for Ebay
The Rumor:
Shares of Ebay (NASDAQ: EBAY) rallied Friday morning on unconfirmed market chatter of a potential $65 per share bid from Google (NASDAQ: GOOG) (NASDAQ: GOOGL). The rumor may have been related to a March 17 note from Baird analyst Colin Sebastian, in which he said an acquisition of the auction site by Google, could be a more attractive option than Carl Icahn's call for a spinoff of PayPal.
Both Ebay and Google declined comment on the rumor.
Ebay closed Friday at $51.95, gaining more than 1%.
Rumor of Seiko Epson $75.00/Share Bid for 3D Systems
The Rumor:
Shares of 3D Systems (NYSE: DDD) rose in early trading Friday on market chatter of a potential bid from Seiko Epson of $75 per share.
A 3D Systems spokesperson declined comment on the rumor. A Seiko Epson spokesperson was not available.
3D Systems shares closed Friday at $48.37, a gain of more than 1%.
Siemens Reportedly to Make Formal Offer for Alstom's Power Business
The Rumor:
Reuters is reporting Siemen's (OTC: SMAWF) could announce an offer for a formal asset-swap offer for Alstom's (OTC: ALSMY) power business as early as this week, according to sources. While some sources say it is doubtful Alstom would be interested in the Siemen's offer, a bid would give the French government leverage in its talks with General Electric (NYSE: GE), which offered $16.9 billion for the power unit.
Siemen's shares closed Friday at $2.99, and gained 31% after-hours.
Midstates Petroleum Could Be Exploring Sale
The Rumor:
Shares of Midstates Petroleum (NYSE: MPO) surged higher midday Friday, on a report from Bloomberg that the Texas company is working with Goldman Sachs and Morgan Stanley on a potential sale, according to sources.
Spokespersons for Midstates Petroleum, Goldman Sachs and Morgan Stanley declined comment on the report.
Midstates Petroleum closed Friday at $5.92, a gain of 10%.
View Comments and Join the Discussion!