Ronnie Moas' Latest Update On Blacklisted Stocks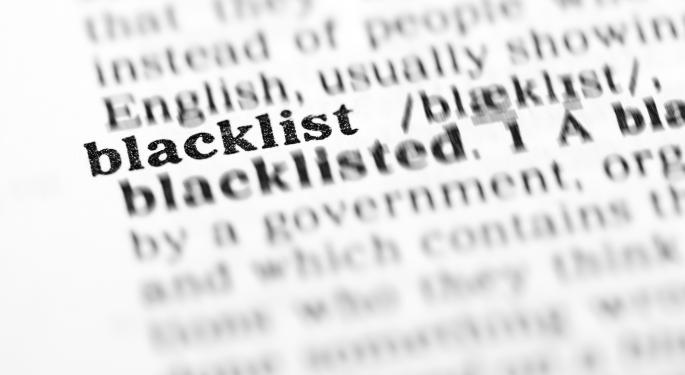 Ronnie Moas, founder and director of research at Standpoint Research, was a guest on Benzinga's #PreMarket Prep this week to talk about his blacklisted stocks.
Moas, who has spent the last six months working on his website, Philanthropy & Philosophy, is getting ready for a philanthropic trip around the world in the next few weeks, including stops in Japan, South Korea and Mongolia.
He has also blacklisted four names on moral and ethical grounds: Amazon (NASDAQ: AMZN), Philip Morris (NYSE: PM), Apple (NASDAQ: AAPL) and Yahoo (NASDAQ: YHOO).
Amazon
Amazon is the first of Moas' blacklisted stocks. He said that people don't mind that founder Jeff Bezos is abusing his warehouse employees.
Ethical and moral issues aside, Moas said that Amazon is overvalued. The company's stock was almost at $380 in March and has dipped down below $300 in May. Moas said he doesn't understand why it went to $400 in the first place. It's currently trading around $300.
"It's still trading at 100 times estimates for next year, which is ridiculous," he said. "In my opinion, a stock that's trading at $300, at this stage of its life cycle, needs to be delivering at least $10 a share in earnings to justify a $300 stock price. And they're not even a third of the way there right now."
Moas expects the stock to hit $200 before it gets back up to $400 again.
Philip Morris
The valuation for Philip Morris wasn't as disturbing as it was on Amazon, Moas said. He downgraded Philip Morris on January 6.
Although Philip Morris prices did drop to roughly $75 at the beginning of February, it has slowly risen back up past $85. But, Moas is sticking with his guns on this one.
"It dropped ten percent, and now 'a rising tide lifts most boats,'" he said.
See also: Philip Morris - Left Behind In the Bull Market
Moas said he thinks that the next time the stock goes down, it will not bounce back. In fact, he doesn't think the stock is worth more than $72.
Regardless of the price, Moas isn't buying shares of Philip Morris any time soon.
"If you sold those shares to me for $10, I wouldn't buy them from you because they have the blood on their hands of tens of millions of people," Moas said.
Moas is calling this blood money, and saying that people should avoid these names at all costs.
Apple
Apple isn't over- or under-valued, in Moas' opinion. He blacklisted this stock purely on moral and ethical grounds.
"I just find it nauseating that they could be sitting on $150 billion in cash, and they're employees in Asia are making $2-3 an hour and committing suicide," he said.
Moas said that the big problem with Apple is its market cap. There's no precedent for a company with a market cap of $500 billion, Moas said, and he doesn't think there's any company that is worth half a trillion dollars.
If Apple had knocked out certain competitors, including Nokia (NYSE: NOK), Blackberry (NASDAQ: BBRY) and Hewlett-Packard (NYSE: HPQ), Moas said it could justify that kind of market cap. But the competition is still there.
Yahoo
Yahoo is another stock that Moas also had a valuation issue with, but he didn't say anything more on it.
Moas continued to say that people should not invest in these blacklisted stocks.
"There has to be a level to which we will not stoop in order to make an extra buck, and that's the problem with extreme forms of capitalism that we have in this country," Moas said. "Enough is enough already. There are thousands of names to choose from. Why on earth would anyone want to support a company like this?"
Check out the full Ronnie Moas interview in the recap below:

View Comments and Join the Discussion!
Posted-In: #PreMarket Prep Benzinga PreMarket PreMarket Prep Ronnie Moas Standpoint ResearchTrading Ideas Interview General Best of Benzinga