Warren Buffett Reveals His Latest Gems In 13F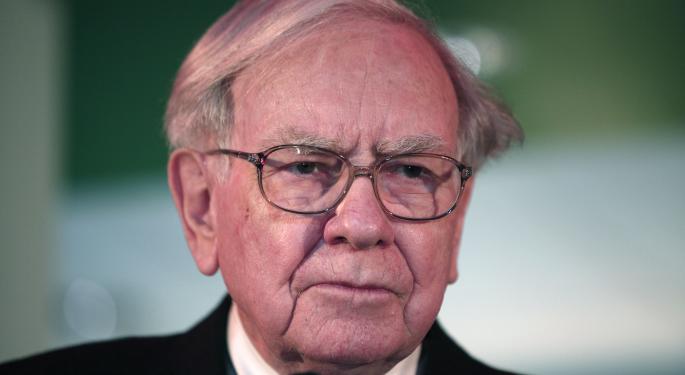 Whale watchers across Wall Street tuned into the SEC's EDGAR website Thursday afternoon, and -- as always -- Warren Buffett is the highlight. Traders are adjusting their positions in Verizon, GM and Philips 66 based on the Oracle of Omaha's most recent 13F filing.
The biggest position Buffett took on is an 11 million share stake in Verizon Wireless (NYSE: VZ). The value of this position is an outstanding $524 million. Manager of Third Point Capital Dan Loeb also opened a stake in company.
David Tepper on the other hand, who many pundits are suggesting was responsible for some of the drop in the broad market Thursday, sold his Verizon stake.
Related: 7 Stocks For Your Retirement Portfolio
Warren Buffett reduced his position in General Motors (NYSE: GM) by ten million shares since the previous quarter. This was good timing on his part as shares of General Motors dropped by 1.66 percent after the company announced a recall that affects 2.7 million vehicles.
Buffett's stake in the oil & gas company Phillips 66 (NYSE: PSX) was reduced from 27.2 million shares to 9.7 million shares. He may be doing some profit taking with this company. Phillips 66 shares rose by eight percent over the past three months while the industrials index rose just 2.74 percent.
Starz (NASDAQ: STRZA) is one of the smallest companies in Buffett's fund with a market capitalization of just $3.23 billion. Buffett reduced his share count by 58 percent to 1.9 million. The position is now worth $62 million, one of his smaller stakes.
At first glance, Warren Buffett's position changes seemed to have moved stocks in Thursday's after-hours trading. Verizon increased 1.65 percent in after-hours trading, General Motors sold off 0.09 percent, Phillips 66 dropped 0.32 percent and there has been no change in the price of Starz.
There has been very little movement in these stocks during Friday's pre-market.
Read other picks from Icahn, Einhorn, Ackman, Loeb, and Tepper.
Posted-In: 13F Berkshire Hathaway Inc. Dan Loeb David Tepper Warren BuffettHedge Funds Top Stories General Best of Benzinga
View Comments and Join the Discussion!