Online M&A Dealmaking Grows, Fueled By Intralinks DealNexus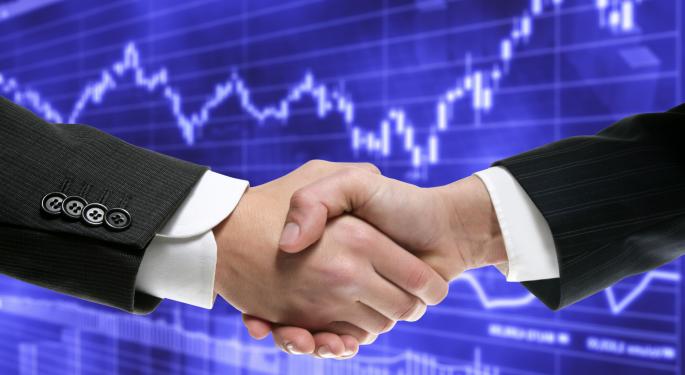 Tony Hill, Intralinks's (NYSE: IL) director of leading online social dealmaking platform, Intralinks DealNexus, said that in 2013 "Intralinks DealNexus saw a 99 percent increase in the number of actionable M&A opportunities hosted on the platform."
According to Hill, who spoke with Benzinga by telephone recently, the average deal size was up almost 30 percent over the prior year with overall volume expected to double again in 2014.
"The wind is at our backs," Hill said, describing the platform's significant growth.
Online Social Dealmaking Defined
Online social dealmaking allows M&A pros to use a social computing platform to connect buyers and sellers, conduct research and close deals.
See Also: Is Tesla's Elon Musk Channeling Henry Ford?
"Successful mergers and acquisitions," Hill said, "are all about finding the right deal with the right company at the right time. Firms need a way to identify buyers and sellers faster, from all over the world, and to get deals done quickly and efficiently."
According to Hill, this is what Intralinks DealNexus does – it connects the right people with the right deal at the right time.
The Numbers Are Impressive
More and more M&A professionals are moving online, Hill said. A 2013 survey by Intralinks documents the trend.
Among the M&A professionals who responded--2,400 were surveyed--55 percent said they currently use an online deal network to support deal sourcing. Of those, Hill said, 50 percent on the buy-side and 40 percent on the sell-side indicated they had actually closed a deal sourced on an online dealmaking network.
Related: Intralinks DealNexus Survey Finds More than Half of M&A Professionals Use Social Networks for Deal Sourcing
How It Works
The platform design, which Hill said was "built by investment bankers for investment bankers," is totally private – unless the parties involved don't want it to be.
Hill provided this illustration of how the site is used: "When a banker creates a deal profile, Intralinks DealNexus algorithms generate a list of potential buyers and that list goes to the banker who created the profile."
At that point, according to Hill, the banker can contact a buyer through the network - or even go outside the network if he or she so chooses.
Not Your Father's Facebook
Asked how Intralinks DealNexus differs from other social networks like Facebook, Twitter or even LinkedIn, Hill pointed to two distinctions. "First," he said, "DealNexus offers tools to get work done. Although it includes a community environment and opportunities for networking, the main thrust is creating deal opportunities."
Noting that trust was a critical component of the dealmaking process Hill also pointed to the fact that with DealNexus, all entities are vetted and membership is locked. The fact that not anyone can simply "join" DealNexus, Hill said, helps create that important element of trust.
New Version Introduced
Intralinks launched version 3 of DealNexus a little more than two weeks ago, according to Hill. The new version, he said, is a complete, simplified, "refresh" that is consistent with the Intralinks infrastructure.
Membership is free. Basic membership grants users access to many Intralinks DealNexus features and tools, including all social networking functionality.
Fee-based Sourcing and Marketing Account subscriptions with enhanced functionality are available in increments of a month, quarter or year.
Related: Comcast's Proposed Data Cap Could Impact Cord Cutters
Impressive Success Story
In early 2014, Benchmark International Director, Kendall Stafford, created a confidential Blind Deal Profile on Intralinks DealNexus that resulted in the successful acquisition of business intelligence provider, DataMentors LLC by Brook Venture Partners.
Stafford reported a 30 percent increase in efficiency when it came to managing the information prior to the deal. He also noted that DealNexus matched a total of 153 private equity firms and potential corporate acquirers as good prospects for DataMentors.
Importantly, Stafford said, it only took two minutes to create the Blind Deal Profile.
What's Next?
The future for Intralinks DealNexus, as Hill sees it, is bright. "We will own the space," he said adding, "We are global with 5,400 companies registered worldwide." Hill noted that a global presence was critical to the future of M&A dealmaking.
Moving forward, Hill also said he sees continued consolidation involving integration with other types of M&A technology – all part of the future of social dealmaking.
"There will be," Hill said, "a sea level rise in deal activity. It is inevitable. Technology is prime."
At the time of this writing, Jim Probasco  had no position in any mentioned securities.
Posted-In: Benzinga Facebook IntraLinks Intralinks DealNexus LinkedInMovers & Shakers Interview General Best of Benzinga
View Comments and Join the Discussion!