Benzinga's M&A Chatter for Thursday May 8, 2014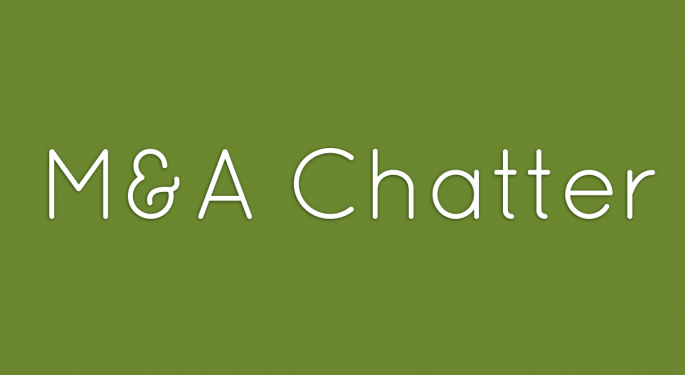 The following are the M&A deals, rumors and chatter circulating on Wall Street for Thursday May 8, 2014:
Lundbeck to Acquire Chelsea Therapeutics for $6.44/Share in Cash, Plus CVR
The Deal:
H. Lundbeck and Chelsea Therapeutics (NASDAQ: CHTP) announced Thursday that Lundbeck will commence a tender offer for all outstanding shares of Chelsea for $6.44 per share in cash. Chelsea shareholders will be offered the upfront payment and contingent value rights (CVRs), representing a total potential consideration of up to $7.94 per share, or USD 658 million.
The transaction is expected to close in Q3 of 2014.
Chelsea Therapeutics closed Thursday at $6.58, a gain of 32%.
Freeport-McMoRan to Acquire Deepwater GOM Interests from Apache for $1.4B
The Deal:
Freeport-McMoRan (NYSE: FCX) announced Thursday that its oil and gas subsidiary, Freeport-McMoRan Oil & Gas, has agreed to acquire certain of Apache Corporation's (NYSE: APA) interests in the Deepwater Gulf of Mexico, including interests in the Lucius and Heidelberg oil production development projects and 11 exploration leases, for $1.4 billion.
The acquisition will be funded with proceeds from Wednesday's reported sale of FM O&G's Eagle Ford Shale assets for $3.1 billion. The deal is expected to close by the end of the second quarter of 2014.
Freeport-McMoRan closed Thursday at $33.84, a loss of $0.15. Apache shares gained $0.27 to close at $88.03.
Report Pfizer Could Raise Offer for AstraZeneca to £53
The Rumor:
Shares of AstraZeneca (NYSE: AZN) rose Thursday, on a report that Pfizer (NYSE: PFE) could raise its bid for the UK pharma company to as high as £53. Reuters reported that an offer, which would value U.S. shares at $89.90, could be made over the weekend, according to sources.
AstraZeneca's Board has rejected previous Pfizer offers of £50 ($84.47) and £46.61 ($76.62) per share. Sources say several large AstraZeneca shareholders would like to see a higher bid from Pfizer.
AstraZeneca closed Thursday at $78.74, a gain of $0.42. Pfizer shares rose $0.15, to close at $29.17.
Apple Reportedly in Talks to Acquire Beats Electronics for $3.2B
The Rumor:
Financial Times reported Thursday that Apple (NASDAQ: AAPL) is in talks to acquire headphone maker Beats Electronics for $3.2B, according to sources. Beats was founded by Interscope Geffen A&M Chairman Jimmy Iovine and hip-hop producer Andre "Dr. Dre" Young in 2008.
Sources report a deal, which would be the largest ever for Apple, could be announced next week.
Apple closed Thursday at $587.99, and ticked lower after-hours on the report.
Report Omnicom, Publicis Call Off $35B Merger
The Rumor:
Omnicom (NYSE: OMC) and Publicis (OTC: PUBGY) have reportedly called off their proposed merger, according to sources reported by the Wall Street Journal. The two companies announced on January 9, they had received clearance for the deal, valued at $35B, from the EC.
However, Ad Age reported on April 28, that Chinese and French regulators had still not approved the deal involving the two ad agency giants.
Omnicom closed Thursday at $66.20, a gain of $0.42.
View Comments and Join the Discussion!