Benzinga's M&A Chatter for Monday April 28, 2014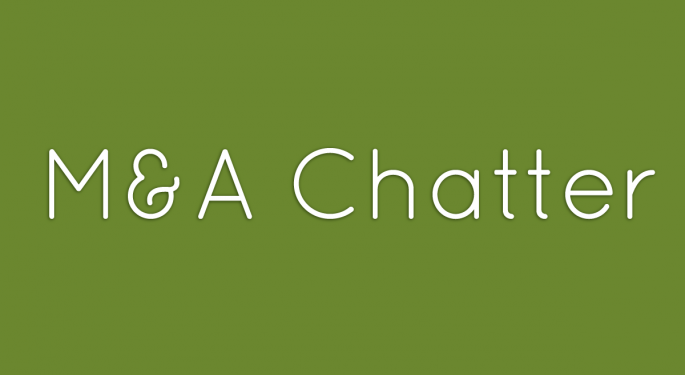 The following are the M&A deals, rumors and chatter circulating on Wall Street for Monday April 28, 2014:
Forest Labs to Buy Furiex Pharma for $1.1B, Plus CVR Up to $30/Share
The Deal:
Forest Laboratories (NYSE: FRX) and Furiex Pharmaceuticals (NASDAQ: FURX) announced Monday that Forest has agreed to acquire Furiex for $95 per share, or approximately $1.1 billion in cash. In addition, up to $30 per share in Contingent Value Right's may be payable based on the status of Furiex's eluxadoline.
The deal is expected to close in Q2 or Q3 of 2014 and will not interfere with Actavis (NYSE: ACT) previously announced acquisition of Forest Labs.
Forest Laboratories closed Monday at $89/50, a loss of $0.34. Furiex shares rose 285, closing at $103.05.
Pfizer Confirms $76.62/Share Offer for AstraZeneca
The Offer:
Shares of AstraZeneca (NYSE: AZN) surged higher Monday, as Pfizer confirmed that it previously submitted a preliminary, non-binding offer of $76.62 per share to the AstraZeneca Board in January 2014, to acquire the UK pharmaceutical company.
AstraZeneca's Board stated that Pfizer's proposal "significantly undervalued AstraZeneca and its prospects." AstraZeneca wrote to Pfizer on January 12, 2014 that it was rejecting the offer. AstraZeneca said Pfizer notified the Board on January 15, that it was no longer considering a bid for AstraZeneca.
AstraZeneca closed Monday at $77.01, a gain of 12%, while Pfizer gained 4%, closing at $32.04.
Report GE Deal for Alstom More Likely than Siemens Deal
The Offers:
General Electric's (NYSE: GE) deal to acquire the French power plant and railcar manufacturer Alstom (OTC: ALSMY) is closer to reality, than a competing proposal from Siemens (NYSE: SI), according to Bloomberg. Although GE' offer is binding, while Siemen's offer is an expression of interest, French President Hollande has urged Alstom to consider a rival offer from Siemens.
Siemen's proposal would have them acquire Alstom's thermal power, renewable power and grid units, while contributing significant parts of its rail systems operations to Alstom.
GE closed Monday at $26.78, a gain of $0.18. Siemens closed at $129.35, a loss of 2.5%.
TIBCO Software Acquires Jaspersoft for $185M
The Deal:
TIBCO Software (NASDAQ: TIBX) announced Monday it has acquired provider of embedded business intelligence and reporting software, Jaspersoft for total consideration of $185 million.
TIBCO Software closed Monday at $19.08, a loss of $0.27.
Reckitt Benckiser Confirms Talks With Merck Regarding Bid for Consumer Health Business
The Talks:
Reckitt Benckiser (OTC: RBGPF) confirmed Monday that it is in discussions with Merck (NYSE: MRL) regarding an offer for its consumer health business.
Merck is also rumored to be in talks with Bayer (OTC: BAYRY) to sell the division for $14 billion.
Merck closed Monday at $56.68, a loss of 1%.
View Comments and Join the Discussion!