4 Unusual Marketing Techniques That Made 'The Grand Budapest Hotel' A Box Office Smash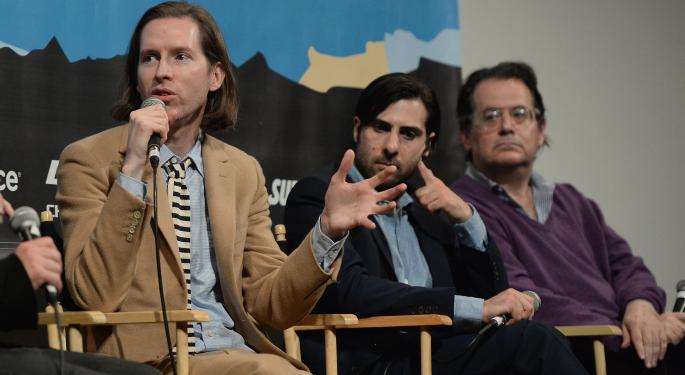 Wes Anderson has seen success on multiple fronts with his newest film, The Grand Budapest Hotel.
Not only did the movie have the highest-grossing opening weekend for a limited release in history, but it has also grossed more than $100 million globally -- by far the most of any of Anderson's films.
What might have made this film so much more successful than his previous ones was a unique approach to marketing. Fox Searchlight, a subsidiary of 21st Century Fox (NASDAQ: FOXA), and the film's production crew opted out of a large amount of traditional television advertisements and instead went for techniques that appeal to a more Internet-driven audience.
Promotional website
Fox Searchlight even created a faux educational website about the made-up country of Zubrowka. Sure, most box office movies have an entire website dedicated to promoting the film, but few go as in-depth as this one. It features college-style lessons about the history and tourism industry in the made-up country, including "The Republic of Zubrowka Before the War: A Central European Case study of Social, Political and Cultural Upheaval." The design and style of the website reflect the artistry and theme of the movie.
See also: 5 Technologies From 'Back To The Future' We Don't Have (And Who Should Make Them)
eBay Art Collection
People who enjoy the distinctive appearance of the film can bring it into their own homes. The film's production designer, Adam Stockhausen, curated an art collection on eBay that is based on the "look and feel" of the movie. It includes paintings and other forms of artwork similar to the style and set design found in the movie. There's also vintage items that go along with the hotel theme, including suitcases and hotel room keys.
Spotify Playlist
Music supervisor Randall Poster put together Spotify playlists for some of the supporting characters in the film. The playlists, each between five and 10 songs, reflect the tastes of the characters. Bill Murray's character, M. Ivan, is an older concierge who enjoys English dance bands, and his playlist includes the likes of Ray Noble and his orchestra. But the playlist for younger concierge M. Jean (played by Jason Schwartzman) includes early rock 'n' roll influences like Buddy Holly.
Prized Pastry Recipe
Although the fictitious baker from the film, Herr Mendl, would die before giving away the secret recipe to his tasty treat, the film's creators were kind enough to share. A nifty video on YouTube uses footage from the movie and takes you step-by-step through the recipe. By promoting the brand of a made-up product from the movie, the producers also promote the movie, itself.
Posted-In: Bill Murray EBAY entertainment Entertainment Industry Fox SearchlightNews Success Stories General Best of Benzinga
View Comments and Join the Discussion!