Attack Of The Chromebooks: Web-Based Devices That Threaten The Old-School PC Market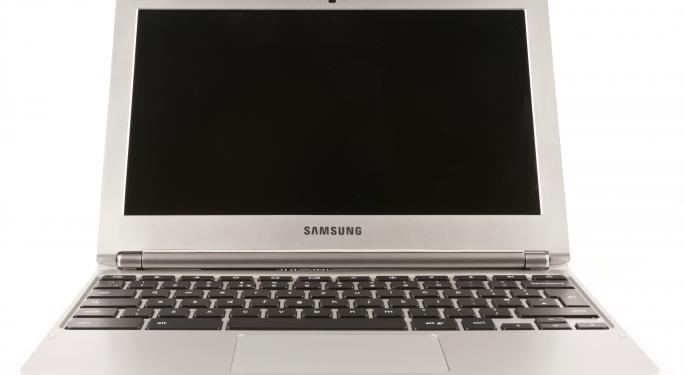 The PC is dead; long live the Chromebook?
That's what some industry analysts are saying, as they tout the Chromebook as an inexpensive alternative to laptop personal computers.
According to a new report from the market intelligence firm ABI Research, about 2.1 million Chromebooks were shipped last year – with nearly 89 percent of those shipments destined for North American markets. ABI also forecasts a CAGR (compound annual growth rate) of 28 percent to 11 million in 2019, as Chromebook shipments expand internationally.
With an average selling price of $338.00, "this truly budget-driven device is a disruptive force to the portable PC," research analyst Stephanie Van Vactor said in a press statement. At the same time, according to the research group IDC, worldwide PC shipments fell by 9.8 percent last year.
For the uninitiated, Chromebooks are a middle-ground between traditional PCs and the newer tablets.
"Instead of using the traditional Windows and Mac operating systems, it uses the Google (NASDAQ: GOOG) Chrome operating system,"Rich Fisco, a Consumer Reports electronics expert, said in an interview last year. "It's Web-based, so everything you do needs to be done online. If it gets lost, stolen, or damaged, all of your data is still there on the Web, and you can access it from anywhere."
Related: Google Glass Is Going To Work
There are also a wide variety of Chromebooks currently on the market.
Here's a breakdown of several that are vying for your attention and dollars:
Chromebook Pixel
The first laptop from Google made without a manufacturing partner, the Pixel is quite expensive, starting at nearly $1,300. And while it scored points with some critics for its touch-screen design, Pixel has also been taken to task for its cloud OS limitations. A CNET review also questioned the Chromebook's need to be online to perform basic tasks. "Web apps can't yet compare to most Windows or Mac Software," it said, "especially for media-centric activities like video." Engadget, meanwhile, summed up the Chromebook Pixel as "another impractical marvel from Google."
Acer Chromebook C720P
A step-up from Acer's earlier C7 model, the C720P has been winning fans among the IT types for its speed, good battery life, sleek design and low price: it starts at just under $300. The device "manages to get better at all the key things," according to CNET, "adding up to a little laptop alternative that's better than any budget Chromebook we've seen before." And then there was this backhanded complement from HotHardware.com: "The Acer C720 Chromebook doesn't have dazzling specs, but they are solid, especially for a device that runs such a lightweight operating system as Chrome OS."
Samsung Chromebook
Last year, a ZDNet review described the Samsung (OTC: SSNLF) Chromebook as the "best $249 you can spend." Weighing less than 2.5 pounds, quiet and with an advertised battery life of 6.5 hours, this device seems to be getting points for its very basic premise. "This is simply a relatively cheap, durable, laptop that you can leave around the house," said a Wired review last year, "and that anyone can log onto as needed. It's also thin and light enough to toss in your backpack, making it a great option for students who need a simple computer for doing their homework. And it's even a great laptop for the workplace, as long as you're working entirely within Google's ecosystem of web-based apps."
Hewlett-Packard Chromebook 11
Another Chromebook coming in at under $300, the Hewlett-Packard (NYSE: HPQ) version is getting noticed for the lightbar – built into the lid – that lets you know when the power is on, and for the 4G LTE modem, that PCMag.com praises for allowing the user to "take the Internet-dependent Chromebook beyond the boundaries of your Wi-Fi coverage." And although it's not a touch-screen, the Chromebook 11 also scores points with some reviewers for its high-resolution display and relatively good internal speaker system. CDNet, however, wasn't overly impressed. "If you're not thinking about productivity," it said, "you're better off with a tablet."
Posted-In: Acer Chromebook C720PNews Events Global Analyst Ratings Tech Media Reviews Best of Benzinga
View Comments and Join the Discussion!