Benzinga's M&A Chatter for Thursday April 3, 2014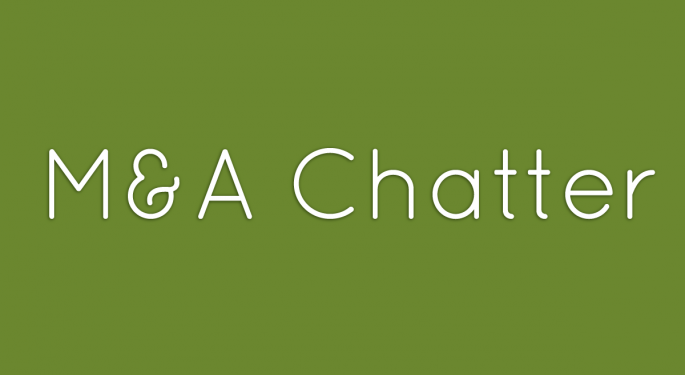 The following are the M&A deals, rumors and chatter circulating on Wall Street for Thursday April 3, 2014:
B&G Foods to Acquire Specialty Brands of America for $155M in Cash
The Deal:
B&G Foods (NYSE: BGS) announced Thursday that it has agreed to acquire Specialty Brands of America and related entities from affiliates of American Capital and certain individuals for approximately $155 million in cash. The deal is expected to close during Q2 or Q3 of 2014. B&G Foods shares closed Thursday at $30.41, a loss of $0.19.
Hearing Unconfirmed Marker Chatter of $72.00/Share offer for Lululemon
The Rumor:
Shares of Lululemon Athletica (NASDAQ: LULU) rose Thursday morning on unconfirmed market chatter of a $72.00 per share offer.
A spokesperson for Lululemon was not available for comment.
Lululemon Athletica closed Thursday at $54.14, a loss of $0.27.
Apple Reportedly Acquires Novauris
The Rumor:
Apple (NASDAQ: AAPL) has reportedly acquired ASR technology company Novauris, according to TechCrunch. Apple responded to the tech blog that "Apple buys smaller technology companies from time to time, and we generally do not discuss our purpose or plans." 9to5Mac reports that Novauris' CEO's LinkedIn page, indicates the two companies may have been together since September.
Apple closed Thursday at $538.79, a loss of $3.76.
View Comments and Join the Discussion!