'Investor Behavior' Author Victor Ricciardi Dissects The Psychology of Traders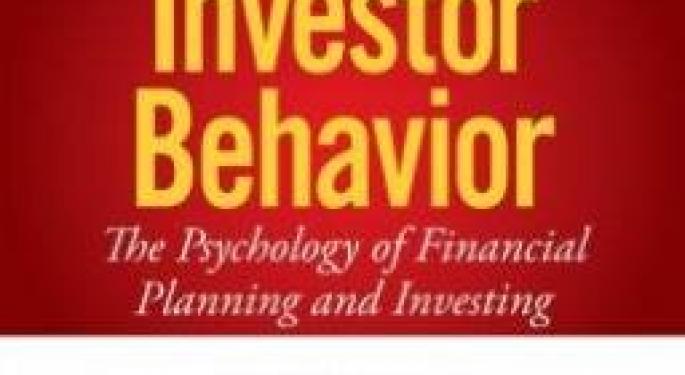 What fuels traders?
Why do they buy and sell particular stocks? What inspires them to take some risks while avoiding others at all costs?
These are the kinds of questions that Victor Ricciardi, Assistant Professor of Financial Management at Goucher College, attempts to answer in his book, Investor Behavior: The Psychology of Financial Planning and Investing.
During an interview with the Benzinga crew on #PreMarket Prep, Ricciardi said that behavioral finance deals with the many aspects of psychology and how they are applied to finance. It also takes an alternative look at the traditional school of thought, which tends to focus on rationality. Contrary to what some may believe, emotion can (and inevitably does) play a major role in how investors respond to market changes.
One of Ricciardi's key points was that traders tend to make decisions based on satisfactory outcomes. At the same time, they tend to be loss-averse.
Related: Themis Trading's Joe Saluzzi On How To Fix Wall Street's 'Plumbing'
"For example, a $1,000 gain on the upside is the equivalent to a $2,000 loss on the downside," Ricciardi explained. "So a loss is twice as painful as an equivalent gain."
That point is illustrated by traders who sell winners too quickly and hold onto losers for far too long, Ricciardi added.
Alphatrends founder Brian Shannon made similar remarks on PreMarket Prep last week.
"The biggest thing I think that a lot of people have issue with is thinking that the market is always going to come back and that they can buy on the dips each time and not being able to take losers -- taking that small loser before it turns into something bigger," Shannon told Benzinga.
Vlad Karpel, founder of Tradespoon, feels that it is best to take emotion out of every trade.
"You basically want to build a system and try to take emotions out of your trading and always…position your target gains so your gains are higher than your losses," he told Benzinga.
In A Bubble?
Investors might not want to believe the hype that the market is in a bubble.
"People are acting like these valuations are very historically above average," said Ricciardi. "I don't view it that way…I still think that the market is not necessarily reasonably overpriced, but [if you] compare bubbles that were caused by the financial crisis and the bubble in the late '90s, I don't view us in too much of a bubble right now. I still think we have some upside."
Check out the video below for a recap of Victor Ricciardi's guest spot on the Benzinga #PreMarket Prep morning show:
Disclosure: At the time of this writing, Louis Bedigian had no position in the equities mentioned in this report.
Posted-In: AlphaTrends Benzinga Brian ShannonSuccess Stories Personal Finance Trading Ideas Interview General Best of Benzinga
View Comments and Join the Discussion!