Warren Buffett: America's Best Days Lie Ahead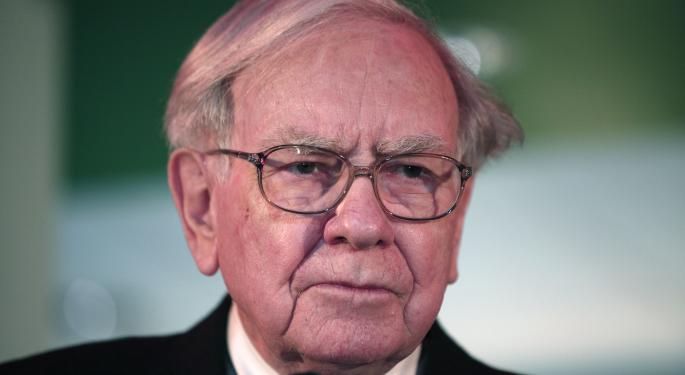 Berkshire Hathaway (NYSE: BRK-B) founder Warren Buffett's annual letter to stockholders is considered one-part corporate guidance and one-part "investor's almanac" by many on Wall Street – not just Berkshire shareholders.
According to The Wall Street Journal, Buffett's habit of including a generous sprinkling of homespun aphorisms belies the fact that his annual missive to the masses has a lot to say about business in general and Buffet's business dealings in particular.
It's no surprise then that with Berkshire posting record annual profits in 2013, investors first wanted to know what the Oracle of Omaha sees as "the way forward."
In a word, Buffett said, "America."
In the letter Buffet elaborated saying, "Charlie (Munger) and I have always considered a "bet" on ever-rising U.S. prosperity to be very close to a sure thing…Indeed, who has ever benefited during the past 237 years by betting against America? If you compare our country's present condition to that existing in 1776, you have to rub your eyes in wonder. And the dynamism embedded in our market economy will continue to work its magic. America's best days lie ahead."
Buffet's optimism about the United States did not come without caution. In particular, he said, public entities have promised pensions they couldn't afford and that over the next decade that fact would portend some very bad news.
Related: Warren Buffett Reveals $3.7 Billion Exxon Buy
Berkshire owns more than $115 billion in stock and has more than 80 businesses, including manufacturing, energy, retail, and insurance. Three areas of the economy helped Berkshire bring in $182.5 billion in revenue in 2013, beating Thomson Reuters (NYSE: TRI) estimates. Those areas are housing recovery, strong consumer and business spending, and the oil-drilling boom of this past year.
Although per-share book value fell short of the 32 percent gain realized by the S&P's 500-stock index, Berkshire's 18.2 percent jump was notable.
By the end of Q4, Berkshire Class A shares had a book value of $134,973 each, slightly above the $134,080 estimated by Jay Gelb of Barclays PLC.
Looking forward, Gelb told The Wall Street Journal, "… there's clearly a lot of focus on potential M&A." It's no secret Berkshire is always on the lookout for companies to acquire and after positive comments about two large deals in 2013, Buffet indicated there would be more where that came from.
Other tidbits from the letter include an indication from Buffet that Berkshire's position in Bank of America (NYSE: BAC) would increase in the future, as he likely would exercise his option to buy 700 million additional shares prior to 2021.
Finally, speaking about Berkshire's "Powerhouse Five"— made up of five large non-insurance entities – Buffet said the group should do well in 2014 if the economy continues to improve. The businesses, including Burlington Northern, utility company MidAmerican, chemicals maker Lubrizol, and industrial companies Marmon and Iscar could increase as much as $1 billion this year, according to Buffett.
At the time of this writing, Jim Probasco had no position in any mentioned securities.
View Comments and Join the Discussion!
Posted-In: America Bank of America Barclays PLC Berkshire Class A shares Berkshire HathawayNews Events Media Best of Benzinga