Benzinga's Weekend M&A Chatter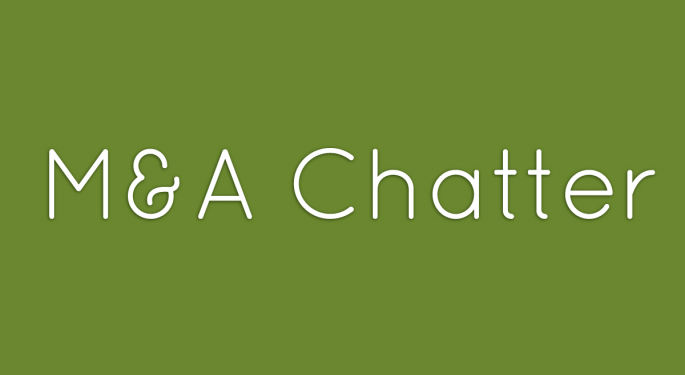 The following are the M&A deals, rumors and chatter circulating on Wall Street for Friday February 28 through Sunday March 2, 2014:
Riverbed Rejects Elliott Management's $21.00/Share Bid
The Rejection:
The Riverbed Technology (NASDAQ: RVBD) Board of Directors unanimously rejected the $21.00 per share proposal from Elliott Management, announcing Friday it believes the offer undervalues Riverbed and is "not in the best interests of shareholders." Elliott's original offer was $19.00 per share, announced on January 8.
Elliott responded saying "Riverbed's Board has again failed shareholders...The clear and correct path forward for the Company is to engage in a dialogue with Elliott and other interested buyers so that we can conduct expedited diligence toward exploring a value-maximizing transaction."
Riverbed Technology closed Friday at $22.28, a gain of almost 8%.
Mattel to Acquire MEGA Brands for $460M
The Deal:
Mattel (NYSE: MAT) and MEGA Brands announced Friday an agreement to acquire MEGA Brands (OTC: MBLKF) for $460 million. MEGA Brands shareholders will receive C$17.75 per share in cash.
Mattel closed Friday at $37.31, a gain of $0.16.
Orbitz Worldwide Acquires Travelocity Partner Network Assets
The Deal:
Orbitz Worldwide (NYSE: OWW) announced Friday that it has acquired certain assets and contracts of the Travelocity Partner Network. Terms were not disclosed. Travelocity Partner Network operations will be integrated into the Orbitz Partner Network.
Orbitz Worldwide closed Friday at $9.66, a gain of 1.5%.
Fred's Said to Approach CVS, Walgreen, Dollar General Regarding Potential Sale
The Rumor:
Shares of Fred's (NASDAQ: FRED) spiked higher Friday, on a report from Bloomberg that the company has approached potential buyers, including CVS (NYSE: CVS), Walgreen (NYSE: WAG) and Dollar General (NYSE: DG) and private equity firms, including H.I.G.
Spokespersons from Fed's, CVS, Walgreen and Dollar General declined comment on the report.
Fred's shares rose 10% Friday, closing at $19.93.
View Comments and Join the Discussion!