Apple's Acquisitions Hint At A Living Room Expansion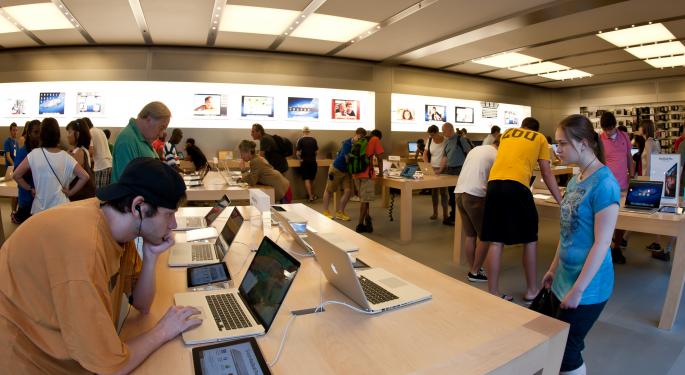 Over the past 15 months, Apple (NASDAQ: AAPL) has bought more than 20 relatively small companies that seem to have one thing in common: the products are intended for living room use.
One of the company's Apple acquired reads body movements, another recommends TV programs. Several others offered location and mapping services, according to The New York Times.
Back in November 2013, Apple purchased Israeli based PrimeSense, a hand motion gesture company that played a key role in the early development of a favorite living room device -- Microsoft's Kinect.
PrimeSense develops technology for digital devices to observe surroundings in three dimensions, allowing for the identification of people and objects. Coupled with Apple's patent portfolio related to gesture technology, investors and technology enthusiasts are speculating that Apple's next big thing is intended to deliver the next generation of entertainment in the living room.
Related: BlackBerry Partners With Ford, Could Signal A Turnaround
Apple's acquisition strategy differs greatly from other peers, such as Facebook's purchase of WhatsApp for as much as $19 billion dollars and Microsoft's purchase of Nokia's handset business for more than $7.1 billion.
Apple has spent $525 million on acquisitions in the recent quarter and has shied away from committing to any one single acquisition with a price tag of more than $1 billion.
"They're pre-emptively investing in areas where they think there are opportunities to grow," Ben Bajarin, a consumer technology analyst for Creative Strategies who follows Apple, told The New York Times. "Without doubt Apple is a bit more focused and lean in their approach and disciplined about the things they buy."
Still, Apple CEO Tim Cook said in early 2014, "we've looked at big companies. We don't have a predisposition not to buy big companies. The money is also not burning a hole in our pocket where we say, 'let's make a list of 10 and pick the best one. We have no problem spending ten figures for the right company, for the right fit that's in the best interest of Apple in the long-term. None. Zero."
View Comments and Join the Discussion!
Posted-In: Apple Apple Living Room Ben Bajarin Facebook KinectNews Tech General Best of Benzinga