The Economics Of Valentine's Day: The Money Behind The Love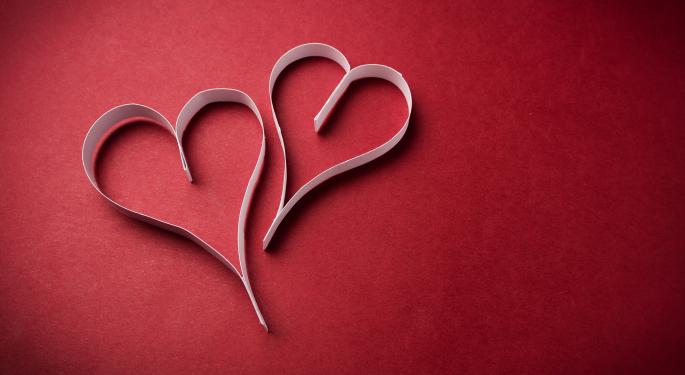 Heart-sick romantic or hardened cynic, you cannot escape Valentine's Day.
The holiday not only has emotional importance for many people, it represents an important annual uptick for the retail industry.
The National Retail Federation's latest annual Valentine's Day spending survey says total spending for the holiday is expected to reach $17.3 billion this year.
And while consumers – still uneasy about the economic recovery – may not be as extravagant as they were in years past, they are still buying the traditional flowers, cards and sweets for their sweeties.
According to the NRF, the average person will shell out around $132 dollars this year on Valentine's Day candy, cards, gifts, dinner and more – up slightly from last year.
See also: 10 Things Most People Don't Know About The Debt Ceiling
"Valentine's Day will continue to be a popular gift-giving event, even when consumers are frugal with their budgets," NRF President and CEO Matthew Shay said in a press statement."Consumers can expect Cupid's holiday to resemble the promotional holiday season we saw just a few months ago, as retailers recognize that their customers are still looking for the biggest bang for their buck."
Some retailers have a lot banking on Valentine's Day. The holiday is hugely important to florists – with fresh flower purchases reportedly making up 36 percent of the holiday's transactions and 40 percent of overall holiday dollar volume.
Industry giant 1-800-Flowers Inc. (NASDAQ: FLWS) tells Benzinga the Valentine's holiday period – essentially, the first two weeks of February – represents about ten percent of their annual floral gift sales, and a smaller percentage of their gourmet food and gift baskets segment. The company's total operating revenues for fiscal 2013 came in at $735.5 million, up four percent from the previous year.
"Logistically, we work very closely with our BloomNet network of local florists weeks in advance of the Valentine holiday," company vice president Joseph Pititto said in an email to Benzinga, "to provide volume forecasts and plan inventory buying and deployment to ensure smooth holiday operations."
And Valentine's Day is no less important for North America's largest chocolate producer, The Hershey Company (NYSE: HSY), which has a large international presence and revenues of more than $6 billion.
Jeff Beckman with the company's PR department tells Benzinga that Hershey's "makes more than 8 million pounds of Kisses and sells more than...800 million individual Kisses for Valentine's Day."
And if you think the Valentine's Day craving for chocolates is just an American obsession, think again.
The holiday has become big business for Japan's confectioners, reportedly making up more than half of their $5 billion in annual sales. Japanese tradition, spurred on by the nation's candy industry, calls for women to hand out chocolates to men on February 14 – with men returning the favor a month later, on "White Day."
View Comments and Join the Discussion!
Posted-In: News Psychology Retail Sales Restaurants Economics Media Press Releases General Best of Benzinga