Will Apple's Recent $14 Billion Share Repurchase Satisfy Carl Icahn?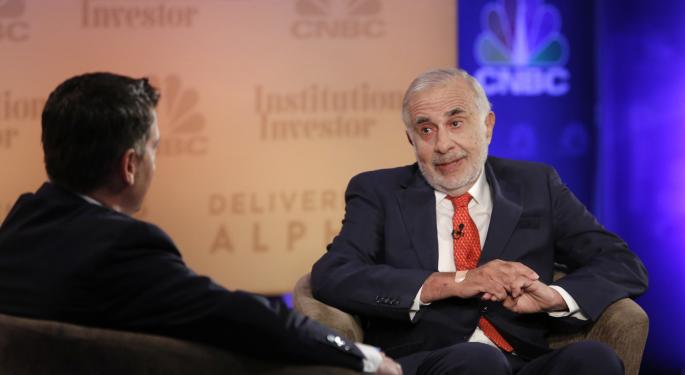 Apple's CEO Tim Cook revealed in an interview with the Wall Street Journal on Thursday that Apple (NASDAQ: AAPL) has bought $14 billion of its own shares in the two weeks that followed the release of its first quarter financial results.
Apple bought $12 billion of shares through its accelerated share repurchase program (ASR) and $2 billion of shares in the open market.
"It means that we are betting on Apple. It means that we are really confident on what we are doing and we plan to do," said Cook in an interview. "We're not just saying that. We're showing that with our actions."
With the latest purchase, Cook said that Apple has bought back more than $40 billion worth of shares over the past 12 months. The company has previously committed to repurchase $60 billion of its own shares, but is this enough to please shareholders?
Carl Icahn has been pressuring Apple to return a lot more than $60 billion to shareholders. The famed activist investor wants the company to repurchase an additional $50 billion of shares by the end of September.
Icahn owns roughly $4 billion in Apple shares and has been extremely vocal on Twitter with his demands that Apple do more for its shareholders with its massive $160 billion cash hoard.
We feel $APPL board is doing great disservice to shareholders by not having markedly increased its buyback. In-depth letter to follow soon.

— Carl Icahn (@Carl_C_Icahn) January 22, 2014
According to Cook, Apple is not in a position to distribute a larger amount of cash to shareholders. Cook argued that the company wants to "be able to adjust for the long-term interest of the shareholders, not for the short-term shareholder, not for the day trader."
"We may see a huge company tomorrow that we want to acquire or something may happen in the stock market that's unpredictable," Cook continued.
According to the Wall Street Journal, the facts contrast Cook's argument. Historically, Apple has never been involved in a merger and acquisition deal valued at more than $1 billion, despite acquiring 21 companies over the past 15 months.
"We've looked at big companies," Cook argued. "We have no problem spending ten figures for the right company, for the right fit that's in the best interest of Apple in the long-term. None. Zero."
Cook said that he still considers Apple to be a "growth company" but some shareholders may be showing signs of frustration. Revenue growth has dropped to less than ten percent in the last three quarter, while net income fell 11 percent in the past fiscal year.
Carl Icahn may appeal to these frustrated shareholders with his accelerating buyback program demands that will help boost shares. A show-down is likely to occur when the issue is set to face a shareholder vote at Apple's annual meeting at the end of the month.
View Comments and Join the Discussion!
Posted-In: Apple Apple Acquisitions Apple Repurchases Carl Icahn Tim CookNews Buybacks Best of Benzinga