KBB: Vehicle Sales On The 'Cusp' Of Returning To Pre-Recession Levels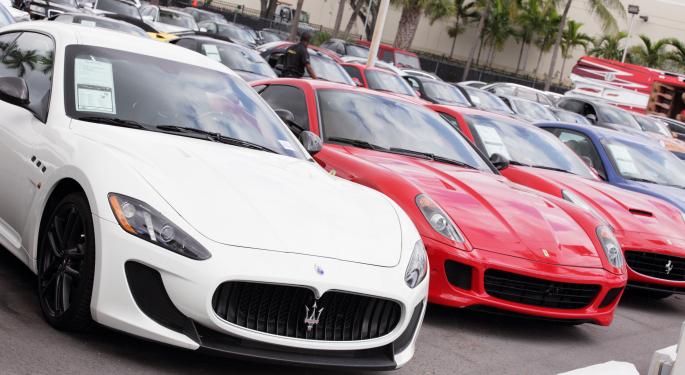 It's been a long and very troubled ride in recent years for the auto industry, especially in the United States. But when Kelley Blue Book briefed the media on Sunday in Detroit, just hours before the start of the 2014 North American International Auto Show (NAIAS), their data and projections pointed to a very revived and lively sector.
And while that strong sense of optimism may be clouded, due to ongoing uncertainties surrounding the global economy, the company's researchers say the industry's overall landscape is looking quite sunny.
"I think we are on the cusp of seeing vehicle sales return to pre-recession levels," Alec Gutierrez, Kelley Blue Book senior analyst, told Benzinga. "Our forecast calls for 16.3 million unit sales in 2014, which is actually slightly better than the 16.1 we did in 2007, the last year prior to the recession."
See also: Auto Industry Revs Up for NAIAS in Detroit
With the economy back on more stable ground, Gutierrez noted, consumer confidence and pent-up demand have combined to create a market hungry for new cars. What's more, he added, "the cars produced today are so much better than what we had just five years ago...it's really a buyer's market today – great product at a great price value."
The average age of vehicles on the road, meanwhile, continues to rise – from just over 9.5 years in 2002 to nearly 11.5 five years in 2013. Gutierrez believes that factoid underscores the growing number of better-built and more durable cars produced in the last five years, as well as a still-solid market for affordable used cars.
He also points out luxury car lines were the largest industry growth segments last year, and are expected to continue their strong runs in 2014 – as consumers with disposable income find encouragement from rising stock prices and a reviving housing market.
Inventory levels remain relatively high, however, about six percent above where the market was at the start of 2007. And that inventory pressure, say the KBB folks, could test automaker discipline -- to see if they can cut production if necessary, rather than push incentives in an effort to drive up growth purely based on pricing.
Kelley Blue Book also acknowledges some major changes underway with both consumers and the auto sector, that's creating a new and uncharted chapter in America's long love affair with cars. New cars are more fuel-efficient and a majority have increased horsepower. At the same time, while short-term vehicle sales are expected to stay strong, a growing number of Americans are driving less.
Akshay Anand, an analyst on KBB's Insights Team, says the auto-makers are trying to revive interest among younger consumers -- not only by making more modern cars, but ensuring future vehicles have will the internet technologies most young consumers can't live without.
"They are developing ways, make more and more apps...(to) make more and more things customized," he says. "There are12 OEM's (original equipment manufacturers) that have signed on with Apple (NASDAQ: AAPL) to make their info-tainment systems look a little more like Apple, essentially – so people are more familiar with it."
Of course, nothing is certain."(If) the economy takes a hit, though, the auto industry will go along with it," Gutierrez says. "On the flip side... when the industry's booming like it is today, it certainly is a positive driver for the overall economy. So goes both ways."
Posted-In: News Guidance Commodities Travel Economics Markets Tech General Best of Benzinga
View Comments and Join the Discussion!