Market Wrap For January 10: Job Growth Weak, But Unemployment Falls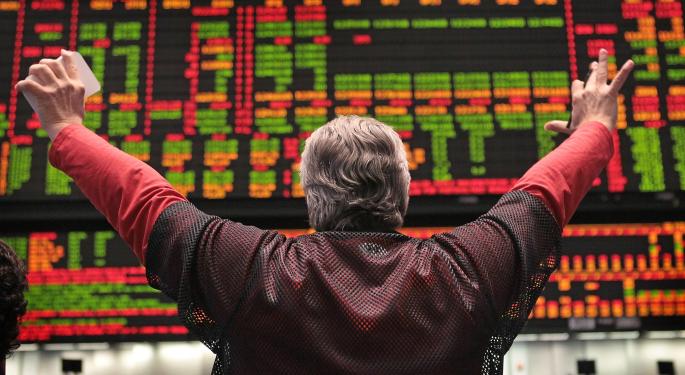 Major indices ended the day little changed as investors and traders were not sure how to react to today's job reports. 74,000 jobs were added, well below the estimated 196,000. The report proved to be a complete contradiction to every other report previously seen.
Related: ETFs Moving On The Jobs Report (SPY, GLD, TLT, XLU)
The Dow lost 0.05 percent, closing at 16,437.05.
The S&P 500 gained 0.23 percent, closing at 1,842.37.
The Nasdaq gained 0.44 percent, closing at 4,174.66.
Gold gained 1.40 percent, trading at $1,246.60 an ounce.
Oil rose 1.20 percent, trading at $92.76 a barrel.
Silver gained 2.32 percent, trading at $20.14 an ounce.
News of Note
December Nonfarm Payrolls rose 74K, below the 196K consensus. The unemployment rate fell to 6.7 percent, lower than the 7.0 percent consensus.
Related: Breaking Down Friday's Jobs Report
November Wholesale Trade Inventories rose 0.5 percent to $516.4 billion, inline with consensus. Sales rose 1 percent to $440.1 billion.
Canada reported a job loss of 45.9K in December and unemployment rose to 7.2 percent. The consensus estimate was looking for a gain of 14K jobs.
Corn prices fell to a three and half year low of $4.08 a bushel yesterday in advance of the U.S. Department of Agriculture's move to lift its estimate for the 2013 corn harvest to 14.05 billion bushels.
President Obama has ordered a reviewed of the U.S. energy infrastructure. The president noted that rising demand and climate change have put increased pressure on the aging pressure. The first report would be due January 31, 2015.
China's trade surplus fell to $25.6 billion in December from $33.8 billion in November. Export growth slowed to 4.3 percent from a previous 12.7 percent. Imports rose 8.3 percent compared to a previous 5.3 percent.
S&P has reiterated Germany's rating at AAA and maintained its stable outlook.
Equities-Specific News of Note
Analysts at FBR Capital downgraded Las Vegas Sands (NYSE: LVS) to Market Perform from Outperform. The analysts noted the overall bullish consensus expectations leads to a less favorable risk/reward profile. Despite that, FBR raised its price target to $85 from a previous $80. Shares closed the day unchanged at $80.61.
Analysts at Maxim upgraded Baidu (NASDAQ: BIDU) to Buy with an increased price target of $200 from a previous $175.50. The analysts noted that Baidu's "positive drivers will likely outweigh negative drivers in the coming quarters. We believe Baidu should trade at peer average, instead of our previous view of a discount to peers." Shares gained 2.36 percent, closing at $179.66.
Analysts at Barclays upgraded Microsoft (NASDAQ: MSFT) to Overweight with an increased price target of $42 from a previous $35. The analysts noted that Windows Azure and Office 365 puts the company in strong position in cloud compared to others. The analysts added with an outside CEO unlikely, investors will refocus on the company's improving fundamentals. Shares gained 1.44 percent, closing at $36.04.
Analysts at Cleveland Research downgraded Whole Foods Market (NYSE: WFM) to Neutral from Buy. The analysts noted that the company's comparative sales growth slowed in November and December amid growing competition in the field. The analysts believe that the company's full year results will come in below the consensus estimates. Analysts at Wells Fargo took a bullish stance noting that the company is "one of the best long-term growth stories in retail." The analysts added that the company has a compelling risk/reward ratio which justifies their Outperform rating. Shares lost 1.76 percent, closing at $52.56.
Analysts at RBC Capital Markets upgraded fellow Canadian company BlackBerry (NASDAQ: BBRY) to Sector Perform with an increased price target of $10 from a previous $6. The analysts noted that the company's new executive can "improve liquidity and strengthen the balance sheet." Shares gained 0.46 percent, closing at $8.76.
Analysts at Argus initiated coverage of Micron Technology (NASDAQ: MU) with a Buy rating and $31 price target. The analysts noted that they see multiple growth drivers in the years ahead. Shares gained 2.02 percent, closing at $23.71.
Analysts at Goldman Sachs upgraded Target (NYSE: TGT) to Buy with a $72 price target. The analysts noted that the company is poised to recover after a tough 2013 despite Target's press release this morning detailing its data breach was more severe than previously assumed. Shares lost 1.17 percent, closing at $62.60.
Related: Target Updates Concerned Clients and Investors Over Data Breach
Analysts at Goldman Sachs upgraded Macy's (NYSE: M) to Buy from Neutral with a price target increased to $65 from a previous $54. The analysts noted that the company will improve from better inventory management and market share gains. Helping the company as well is an improved macro economic condition and the shares current "attractive" valuations. Shares gained 0.07 percent, closing at $55.84.
Analysts at Deutsche Bank said that the worst is likely over for Anadarko (NYSE: APC). The analysts noted that the market's fears are unwarranted as the worst case outcome ($14.2 billion liability related to its 2006 acquisition of Kerr-McGee) is already out in the open and well understood by all. The analysts see shares trading in an $88 to $92 range. Shares gained 0.97 percent, closing at $79.85.
The National Retail Federation chairman Stephen Sadove believes that J.C. Penney (NYSE: JCP) is on the right track towards a recovery. "There is no silver bullet in retail," he said adding that the company's major initiatives will add value. Note: Sadove is also a board member at J.C. Penney. Despite the positive comments, shares lost 3.80 percent, closing at $7.35.
Related: Sears or JC Penney: Which is the Better Bet?
According to the China Association of Automobile Manufacturers, Volkswagon ended the year selling 3.27 million vehicles good for top spots in the world's largest market. General Motors (NYSE: GM) sold 3.16 million cars in the country, good for second place. Shares of GM lost 1.14 percent, closing at $40.03.
ITG Research said that Lululemon (NASDAQ: LULU) is tracking ahead of conensus estimates for its fourth quarter sales. Shares gained 3.85 percent, closing at $59.56.
Chevron (NYSE: CVX) said that it expects its fourth quarter profit to be "comparable" with its third quarter profit which came in below the consensus estimates. In the third quarter the company reported a net income of $4.95 billion, below the $5.69 billion consensus. Shares lost 1.84 percent, closing at $121.02.
Tifanny (NYSE: TIF) reported its holiday sales rose 4 percent year over year to $1.03 billion. Comparable store sales increased 6 percent during the period. The company also reiterated its full year 2013 EPS forecast in between $3.65 to $3.75. Shares lost 1.79 percent, closing at $90.36.
Real M&A reported that Monster Beverage (NASDAQ: MNST) is a desirable takeover target despite adding more than $3 billion in market cap over the past two years. Possible acquirers includes Coca-Cola (NYSE: KO) which is expected to report its first annual sales drop since the financial crisis. Shares of Monster Beverage hit new 52 week highs of $70.41 before closing the day at $69.82, up 2.27 percent. Shares of Coca-Cola gained 1.01 percent, closing at $40.13.
Pepsi's (NYSE: PEP) CEO said that the company should keep its beverage and snacks business as one. Activist investor Nelson Peltz has been active in getting Pepsi to spinoff the two divisions with the snack division combining with Mondelez International. (NASDAQ: MDLZ) Shares of Pepsi gained 0.77 percent, closing at $83.49 while Mondelez hit new 52 week highs of $35.84 before closing at $35.80, up 1.24 percent.
Winners of Note
Following yesterdays more than 200 percent surge, analysts at Bank of America (NYSE: BAC) increased its price target on Intercept Pharmaceuticals (NASDAQ: ICPT) to $872 from a previous $81. The analysts noted that the market for its OCA "has the potential to be as big or bigger than Hepatitis C" and could see sales of $4 billion. Shares hit new 52 week highs of $497.00 before closing the day at $445.83, up 61.61 percent.
Galectin Therapeutics (NASDAQ: GALT) appears to be riding the Intercept Pharmaceutical wave as it believes that its drug candidates "have the potential to treat NASH and other forms of liver fibrosis." Shares hit new 52 week highs of $17.88 before closing the day at $15.10, up 11.93 percent.
Abercrombie & Fitch (NYSE: ANF) showed a strong improvement in its comparable store sales growth going from -14 percent in the third quarter to -4 percent during the holiday season. E-commerce sales rose over 25 percent since last year as well. Shares gained 11.98 percent, closing at $37.19.
Analysts at UBS see 2014 being a "transformative" year for InterMune (NASDAQ: ITMN). Shares are Buy rated with a $19 price target. The analysts noted that its Phase 3 ASCEND data being a key driver. "Guidance suggests the European launch continues to progress well (with boost from Canada as well), with sales growth mostly driven by continued penetration into existing markets." Shares hit new 52 week highs of $17.94 before closing the day at $17.88, up 7.91 percent.
Decliners of Note
Brian Sozzi of Belus Capital Advisors said that Sears (NASDAQ: SHLD) is a company "in absolute crisis" and that "Sears is not investing in their name brands so they can keep the customer coming back to the store for them. I view Sears in a slow death spiral." The analyst added that the retailer could be "gone" by 2017. Shares hit new 52 week lows of $35.50 before closing the day at $36.71, down 13.77 percent.
MannKind Pharmaceuticals (NASDAQ: MNKD) said an Afrezza Advisory Commitee has been scheduled for April 1. The Street's Adam Feuerstein said that "The results from the two phase 3 studies announced this summer were barely passable and we still don't know, exactly, how the current 'Dreamboat' inhaler performed relative to the older Medtone inhaler." Shares lost 16.38 percent, closing at $5.92.
Alcoa (NYSE: AA) missed its fourth quarter earnings expectations and offered an unimpressive first quarter guidance in an environment of weak aluminum prices. The company's CEO did his best to support his company noting that its commodity and value-add businesses continue to grow. Analysts at Nomura reiterated a Neutral rating but lowered its 2014 EPS estimates to $0.28 from a previous $0.40. Shares lost 5.43 percent, closing at $10.11.
Natural Resource Partners (NYSE: NRP) issued disappointing 2014 guidance last night. The company expects revenues in a $205 to $220 million range, lower than the $346.72 million consensus estimate. The company's CEO said that "We did not see the recovery in the coal markets that we thought might occur over the course of 2013, but instead the markets weakened." Shares closed at its new 52 week lows of $16.60, down 18.39 percent.
Earnings of Note
Infosys (NASDAQ: INFY) announced its fourth quarter results today. The company reported an EPS of $0.81, higher than the $0.75 consensus estimates. Revenue of $2.1 billion matched the consensus estimates. The company raised its fiscal year revenue growth forecast to 11.5-12 percent from a previous 9-10 percent. Shares hit new 52 week highs of $59.72 before closing the day at $59.50, up 5.97 percent.
Related: European Billionaire to Wall Street: You Are Wrong on Emerging Markets
Quote of the Day
"The Fed is an inertial institution. Officials spent months coming to the decision they made in December. They're likely not inclined to change their stance after a report that showed employment growth slowed in December. But as Mr. Bernanke made clear, they could change their stance later if evidence mounts that the economy–once again–isn't measuring up. That said, Friday's report should put to rest for the time being any notion that the Fed will reduce the bond-buying program more quickly than planned." - Jon Hilsenrath in today's Wall Street Journal
View Comments and Join the Discussion!
Posted-In: abercrombie & fitch Adam Feuerstein Afrezza Advisory Commitee Alcoa anadarko BaiduNews After-Hours Center Best of Benzinga