Is Best Buy Winning the Showrooming Battle?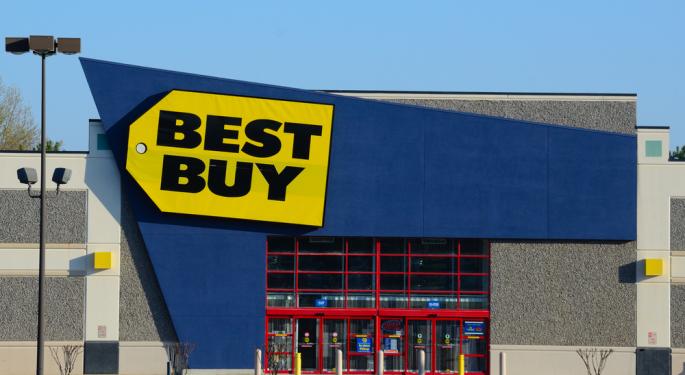 It's the end of the year -- which means time for lots of lists, including what were the best-performing stocks of 2013.
Best Buy (NYSE: BBY) is making it on to those lists, and is also being called one of the biggest surprise turnaround stories of the year. That's good news for Best Buy, but does that mean that the company is winning the battle against showrooming?
Showrooming is the growing practice of customers heading to a Best Buy or other retail store, checking out the latest and greatest gadgets and, later, going home and ordering the product online.
It was supposed to be the final nail in Best Buy's coffin -- and had analysts lumping the company in with Sears Holdings (NASDAQ: SHLD) and JCPenney (NYSE: JCP) as the next big retailers to go extinct.
The company fought back, however, with a $45 billion showrooming battle that seems to have helped. Investors won't know how well the holiday season went for Best Buy until it reports earnings early next year -- but as of the third quarter, Best Buy reported that comp. store sales had risen 0.3 percent year over year versus a loss of 5.1 percent the year prior.
According to Ad Age, Crimson Hexagon, a social media analytics company, studied data from more than 16,000 Twitter and Facebook posts to gauge customer sentiment regarding Best Buy from October 21 to December 12. It found the ad campaign launched by Best Buy against showrooming resonated well among its customers, with positive sentiment outweighing the negative,
But Best Buy is still missing the mark in terms of conversion. In short, the company is doing a better job of driving people to its stores for the right reasons -- but once they get there, Best Buy is failing to convert the visitor into a customer. Because Best Buy doesn't provide a superior customer experience, the company is still losing a significant amount of consumers to Amazon (NASDAQ: AMZN).
What can Best Buy do to convert more customers? According to Crimson Hexagon, making the store into more of a "playground" with in-store events, refer-a-friend programs, and group discounts would be to Best Buy's advantage. According to Jehan Hamedi, global market development manager at Crimson Hexagon, "There's such a huge opportunity for them to link their product showroom appeal with a social experience."
Related: Gerald Storch Explains Holiday Season 2013's Retail Slump
Best Buy stock is up more than 240 percent this year -- making it no surprise it's the subject of so many "surprise stocks of 2013" reports. But after hitting a high of $48 per share in 2010 and plummeting to a low of $11 by the beginning of 2013, the rally has only served to bring it back to where it once was -- an impressive feat, however.
Still, in order to continue on its upward trajectory, Best Buy will have to show that it remains a viable electronics retailer and not just a place where people go to look but not buy. While it appears that the company has made progress, it still has work to do, if Crimson Hexagon is correct.
Disclosure: At the time of this writing, Tim Parker had no position in the company mentioned.
View Comments and Join the Discussion!
Posted-In: best buyNews Psychology Retail Sales Tech Media Reviews General Best of Benzinga