How Big A Role Will U.S. Regulators Play In A Potential T-Mobile Takeover?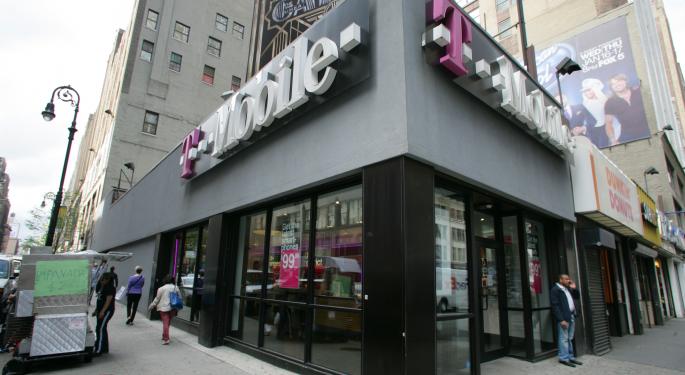 T-Mobile US (NYSE: TMUS) is a takeover target. That much seems almost certain.
Whether it will eventually be acquired by Sprint (NYSE: S), Dish Network (NASDAQ: DISH) or someone else is open to debate.
As the various players position themselves, one entity stands ready to make or break any potential deal. That entity is the U.S. government.
Both the Federal Communications Commission (FCC) and the Justice Department have said they favored a U.S. wireless industry with four competitors. Should Sprint successfully merge with T-Mobile, the landscape would have only three, Verizon, AT&T, and the newly formed Sprint-T-Mobile conglomerate.
Satellite provider, Dish Network, which dropped out of a bid to acquire Sprint, also signaled possible interest in acquiring T-Mobile.
A merger between Dish and T-Mobile would not pose much of a threat, competition-wise. First, the combination would not merge existing wireless providers and would not change the "rule of four" government regulators have said they favor.
Related: T-Mobile's GoSmart Offers Free Facebook to All
On the other hand, while Dish does own lots of unused spectrum, which is a plus, it lacks experience in wireless and has no wireless infrastructure like the one Sprint does.
It should be noted that Sprint plus T-Mobile would also not equal either Verizon or AT&T in size or scope.
The top two companies spend billions of dollars a year more on their infrastructure than either Sprint or T-Mobile.
Meanwhile, the Wall Street Journal reported that at least a half dozen banks were working on financing for a Sprint bid, according to sources. Sprint, through parent company Softbank seemed to be actively pursuing a deal.
As a matter of fact, WSJ sources said a $20 billion offer could be in place as early as January as a precursor to a final package that could come together sometime in the first half of 2014.
Further indications of a Softbank/Sprint offer came from people familiar with the schedule of Sprint CEO, Masayoshi Son, who told The Wall Street Journal Son met with Lloyd Blankfein of Goldman Sachs Group, as well as other senior bank executives in New York Thursday.
At the end of the day, the biggest obstacle for Sprint and Softbank remains the government.
Even the hint that a merger could hurt consumers would be enough for regulators to withhold approval as they did when AT&T tried to acquire T-Mobile from Deutsche Telekom in 2011.
Robert McDowell, former senior Republican member of the FCC said, "The Obama administration definitely is more skeptical of large corporate combinations. They are concerned about the effects of market concentration on consumers."
As Stifel analyst, David Kaut said, however, those same regulators while turning back a Sprint/T-Mobile merger, might welcome one between Dish and T-Mobile, mostly because it involves a new competitor.
According to Kaut, "Dish/T-Mobile, from a regulatory standpoint, it would be a slam-dunk."
As of this writing, Jim Probasco had no position in any mentioned securities.
View Comments and Join the Discussion!
Posted-In: AT&T David Kaut Deutsche Telekom Dish Network FCCNews Events Media Best of Benzinga